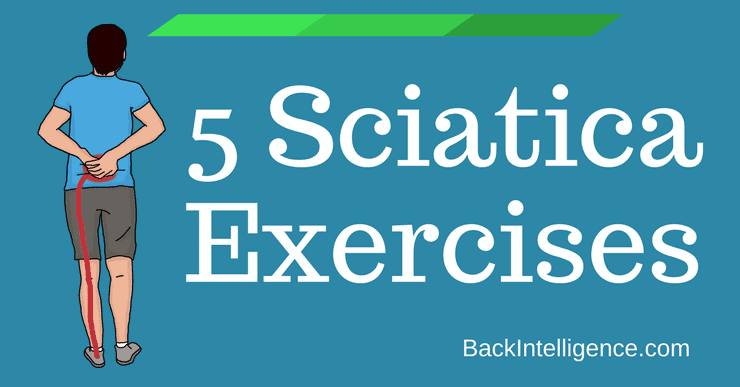 Sciatica is low back pain that normally radiates into the butt, back of the hip, and down the back of the leg to the foot.
Most times sciatica affects only one side of the body (unilaterally), but it can affect both legs, depending on the cause.[1]
The good news is that doing simple sciatica exercises can help relieve your pain.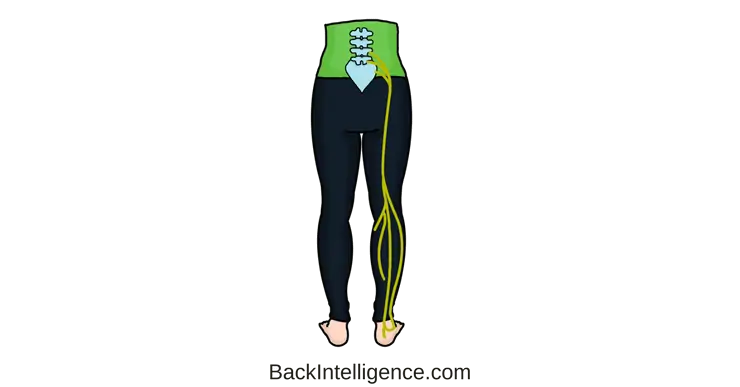 First, Sciatica Facts:
Main Causes of sciatica:
Sciatica Symptoms Include:
Note:
Sciatica symptoms may be worsened with flexion of the lumbar spine, twisting, bending, or coughing.
[1]
Before we jump to the exercises let's see some general treatment options available.
General Treatment Methods:
• Ice to decrease pain and inflammation.
• Avoiding activities/positions that exacerbate pain.
• Avoiding prolonged sitting and/or standing.
• Maintaining proper posture.
• Performing exercises to increase core strength.
• Performing stretching to increase spinal and hamstring range of motion.
• Using proper lifting techniques.
• Non-steroidal anti-inflammatory drugs (NSAIDS)
• Non-opioid and opioid pain medications.
• Muscle relaxants.
* Source to above treatments: [1]
Related: Check out the exercises to AVOID if you have a Herniated disc/Sciatica
How long till the pain goes away?
Most cases of sciatica resolve within 4 to 6 weeks, with patients reporting no long-term side complications.[1]
Related Course:
The Complete Low Back Fix (With Dr. Oliver, DC)
Ease your Low back pain, gain mobility and get back to the things you enjoy doing.
Learn More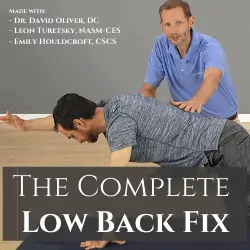 5 Exercises For Sciatica Pain:
Exercise #1: Sciatic Nerve Floss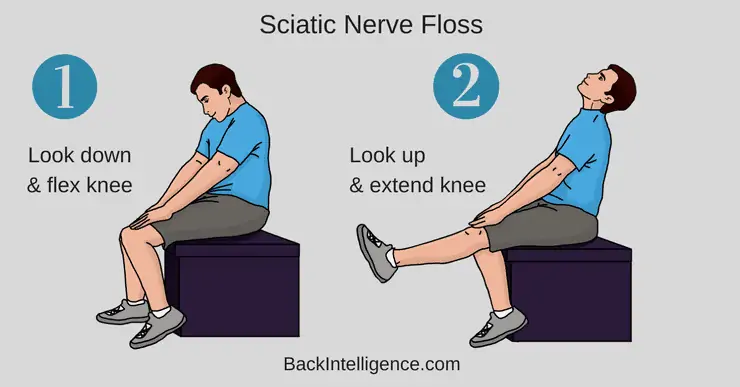 Caution: This Flossing technique can cause more pain in some people, so be sure to stop if you feel any increased pain and try some of the other exercises below.
How it helps:
Sciatic nerve flossing can help relieve lower back pain by massaging the trapped nerve. Sciatic nerve flossing is done to "massage" the sciatic nerve when it becomes compressed by the muscles.
How to do it:
– Sit on a chair or table in a slouched position with both legs hanging off the edge.
– Place your hands on your thighs.
– Extend (Straighten out) your knee and look up with your head.
– Now, lower Leg while bending (flexing) neck down.
– Return to starting position.
– Repeat 10x, 3x a day.
Exercise #2: Cat & Cow (Use low range of motion)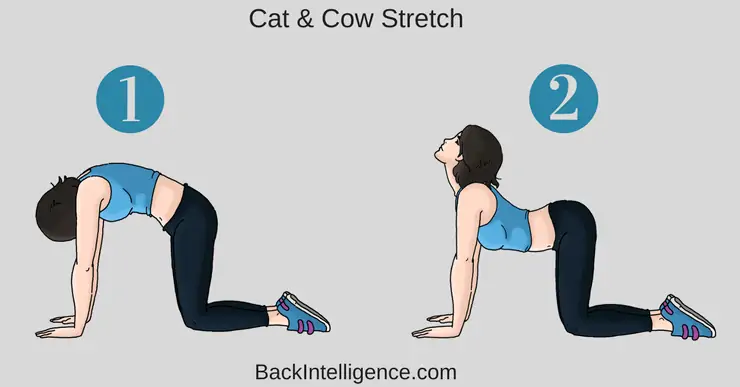 How it helps:
The cat and cow is a great spine mobility exercise that can help decompress the low back.
How to do it:
– Begin by kneeling on all fours with your hands positioned under your shoulders and your knees positioned directly below your hips.
– Exhale and arch your low back gently.
– Hold this position for 2 seconds.
– Inhale and round your back.
– Hold this position for 2 seconds.
– Aim for 10 repetitions.
Exercise #3: Lying Figure-4 Stretch (For Piriformis)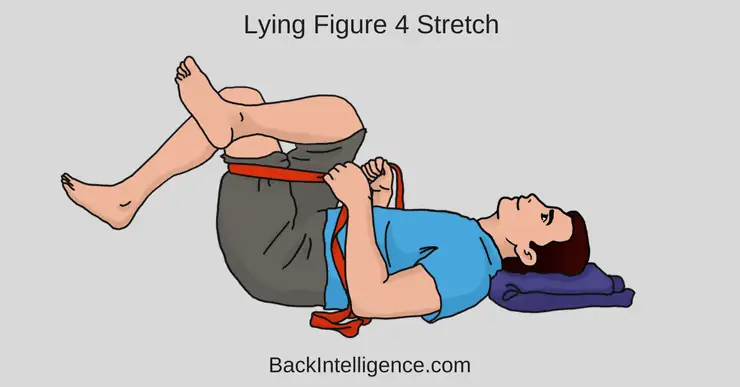 How it helps:
Sciatica pain can often be caused by what is called piriformis syndrome (Coming from tightness of piriformis muscle in the butt area). This stretch will relieve the tension in the piriformis, to ensure that it's not compressing on the sciatica nerve.
How to do it:
● Begin lying on your back with your knees bent and feet positioned flat on the floor
● Place your right ankle over your left knee
● Use your hands or a band to pull the left thigh towards your chest, and hold for 20 to 30 seconds
● Repeat on the other leg
● Aim for 3 repetitions on each side
Exercise #4: Half Cobra Pose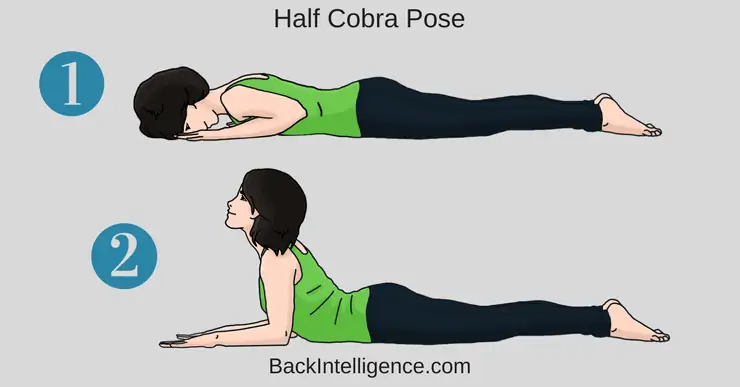 How it helps:
The half cobra pose creates spinal extension helping push back disc material (that may be compressing on the nerve) back towards the center and reduce pain symptoms from sciatica.
How to do it:
● Begin this exercise by lying on your stomach (prone position) and slowly prop yourself up on your elbows while keeping your hips in contact with the floor.
● Hold the prop-up position for 10-15 seconds before returning to the prone position (lying face down).
● Gradually increase to holding the end position for 30 seconds. Aim for 10 repetitions of this stretch.
** Initially, you may not be able to tolerate this position very well, so make sure you start slowly and carefully.
Exercise #5: Full Cobra pose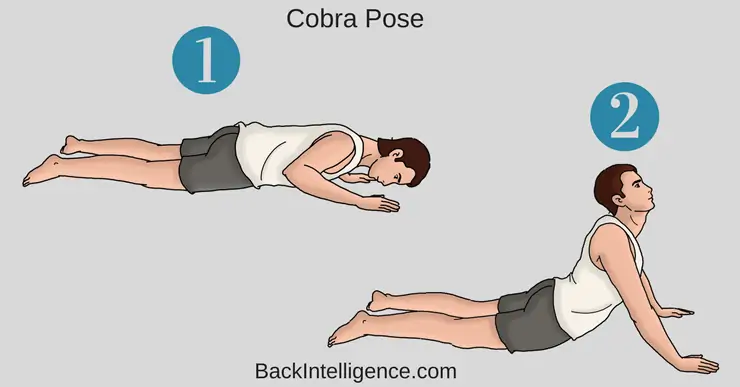 How it helps:
The full cobra pose creates even more spinal extension than half cobra helping push the disc material back towards the center and reduce pain symptoms from sciatica. Be careful with this one and don't overdo it.
How to do it:
● Begin lying on the ground with your hands flat on the floor at the level of your shoulders
● Slowly push your hands to raise your shoulder off of the ground until you feel a slight stretch
● Increase your range of motion by exhaling as you push further into lumbar extension
● Aim for 5 repetitions
3 Sciatica Exercises Video:
Related Articles:
Bulging disc treatment
7 Lower back stretches
Herniated disc exercises
Rounded shoulders exercises
Self Massage Techniques
Spinal Decompression at home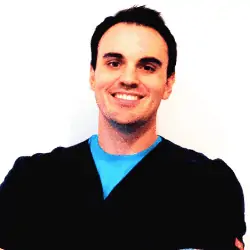 Dr. Smith earned his Doctorate In Physical Therapy from the University of Miami's Miller School of Medicine and currently practices as a home care therapist in the Tampa Bay area. He uses his eclectic background of working with everyone from those in the ICU to elite athletes to customize care for each one of his patients and progress them toward their personal goals.
Prior to being a Physical Therapist, he earned a masters degree in public health and managed big pharma clinical trials worldwide. He enjoys CrossFit, Animals, and helping people live a pain free and active lifestyle
Co Authors :