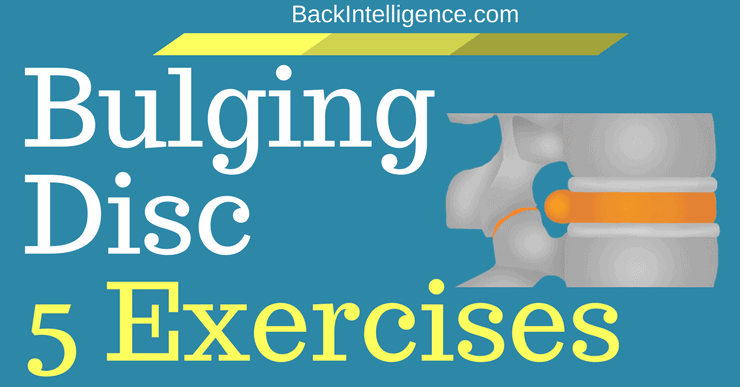 Research has confirmed that 8 out of 10 people will experience low back pain at some point throughout their lives[7].
Poor posture, unbalanced tight and weak muscles, overtraining, and joint dysfunction are all possible causes of low back pain, but one of the most common, as well as one that can even present with and/or cause some of the symptoms noted above is a bulging disc.
Before we dive into some natural Bulging disc exercises you can do for treatment, let's explain exactly what a disc bulge is and the main causes.
So, what is a bulging disc?
To understand what a bulging disc is, we must first understand the anatomy of the spine.
Put simply, the spine is made up of individual vertebrae stacked on top of each other. Between each vertebrae is an intervertebral disc that provides a cushion so the vertebrae don't rub together. The discs between the vertebrae, have a gel-like material inside (called a nucleus pulposus).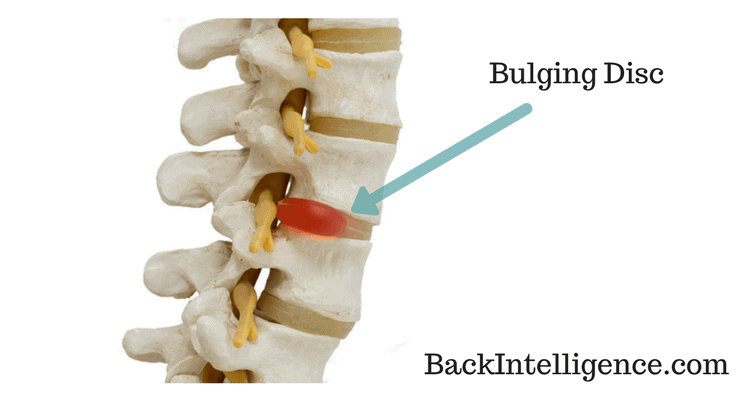 A great way to think of the discs is like that of a balloon filled with water, and these discs help resist compressive forces on the spine.
When a disc bulges the gel-like material inside of it gets pushed back towards the nerves and structures of the spine. This bulge can sometimes compress nerves in your spine and cause pain, tingling/or burning sensation, and/or other symptoms[5].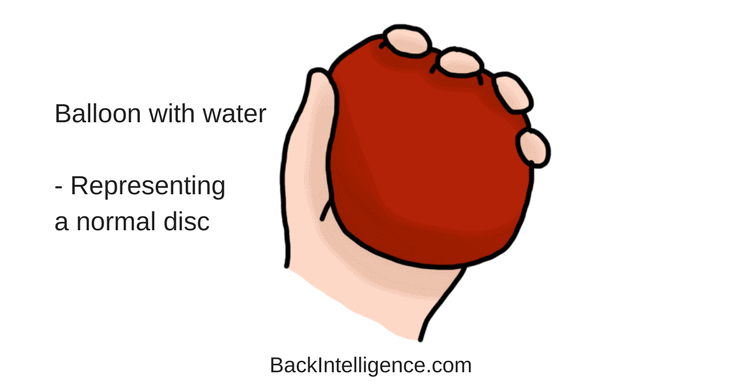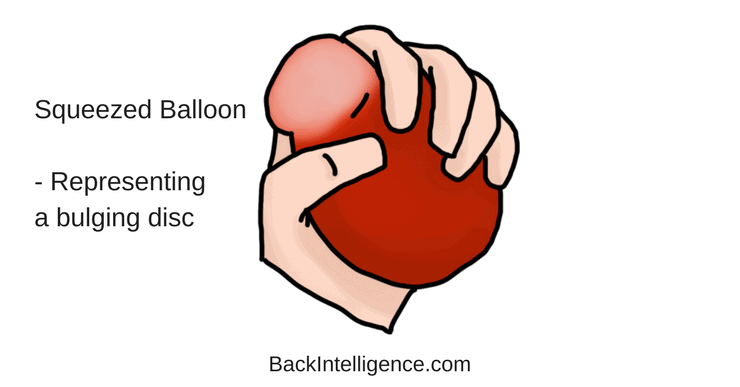 * It is important to note that a bulging disc doesn't always touch the nerves, and for many a bulged disc doesn't even produce any pain at all. However, it could progress to become a herniated disc eventually, which can be problematic.
What Causes a Bulging Disc?
● Seated in poor posture for long periods of time (in office, driving, etc..)
● Repetitive bending, lifting, and twisting (Esp in poor form).
● Heavy lifting with poor form due to stress on front of spinal column causing disc to bulge out back.
● Can also result from Osteoarthritis.
● Trauma such as a car accident.
How is a bulging disc different from herniated disc? and which is worse?
Now that we know what a bulging disc is, let's discuss disc herniation.
● In most simple terms, a herniated disc is when the fluid material from the disc ruptures through the outer layer of the disc and now spills out the back, which can directly compress on spinal nerves and spinal structures. If you use the water balloon example from above, but now imagine the balloon has bursted under pressure – That's a herniated disc.
As you can see a herniated disc is worse.
A bulging disc can be resolved over time if managed well, whereas the herniated disc will just scar down since the annulus (outer layer of disc) has ruptured.
A nice visual spine model is provided below differentiating between normal, bulging, and herniated discs: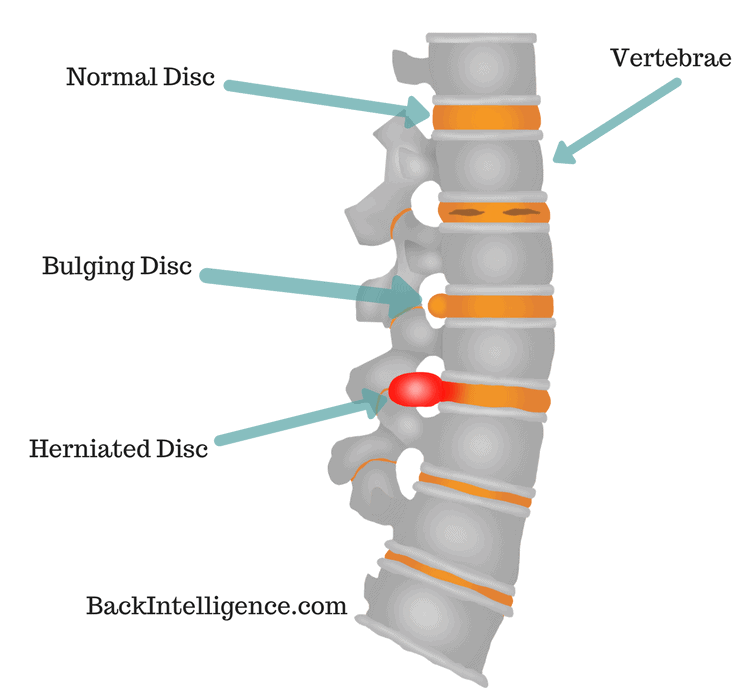 What are the Symptoms of a Bulging Disc in the Lumbar Spine?
● Low Back Pain
● Pain Can Travel Down Leg
● Decreased Lumbar Lordosis (Lower Back Curvature Becomes Flattened – Flatter Lower Back Over Time)
● Lumbar and Hip Muscle Tightness
What are the most effective treatment options?
Leon's Notes:
There's some
research
showing that a bulging disc can in fact be reversed with exercise and posture modifications. Meaning you could actually push back the disc material, so it doesn't bulge.
With most bulging discs in the lower back, you want to use an extension based exercise programs. This can reverse the direction of the bulge and push the fluid back into neutral alignment.
It is important to also consider that 70% of people with low back pain get better regardless of treatment and 90% get better within 2 months of initial episode of back pain[7].
Note: Always monitor your pain severity and location, if these exercises make you feel worse, stop doing them and try a different exercise or consult with your doctor.
5 Good Bulging Disc Exercises And Stretches
The exercises I personally recommend are listed below in the order I use with my patients.
Exercise #1: Lying Figure-4 Stretch (For Piriformis)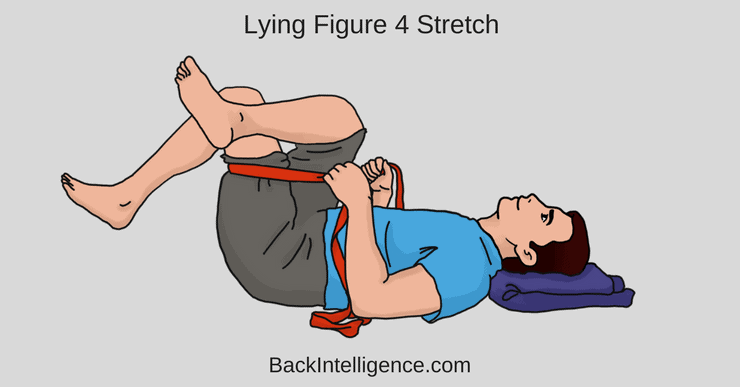 In the early stages of a disc bulge, your body's natural response is to tighten up and protect the spine and buttocks area. Because of this, one of the the simplest things you can do yourself to relieve radiating back pain caused my a disc bulge is stretching piriformis muscle.
How to perform it:
● Begin lying on your back with your knees bent and feet positioned flat on the floor
● Place your right ankle over your left knee
● Use your hands or a band to pull the left thigh towards your chest, and hold for 20 to 30 seconds
● Repeat on the other leg
● Aim for 3 repetitions on each side
Exercise #2: Prone Alternating Leg Raises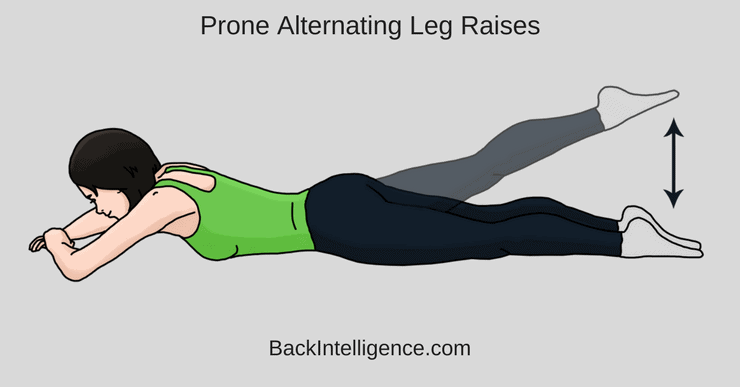 The prone leg lift creates spinal extension helping push the jelly-like material back towards the center and reduce bulging disc.
How to do it:
● Lay face down with your palms on the floor under your forehead.
● Straighten one leg then lift it a few inches off the ground with your toe pointed.
● Lower your leg to the floor with your knee remaining straight.
● Switch Legs
● Repeat 3 x 15 reps each side
● 3 x a Day
Exercise #3: Half Cobra Pose

The half cobra pose creates spinal extension helping push the nucleus (jelly) back towards the center and reduce bulging disc.
How to do it:
● Begin this exercise by lying on your stomach (prone position) and slowly prop yourself up on your elbows while keeping your hips in contact with the floor.
● Hold the prop-up position for 10-15 seconds before returning to the prone position (lying face down).
● Gradually increase to holding the end position for 30 seconds. Aim for 10 repetitions of this stretch.
** Initially, you may not be able to tolerate this position very well, so make sure you start slowly and carefully.
Exercise #4: Full Cobra pose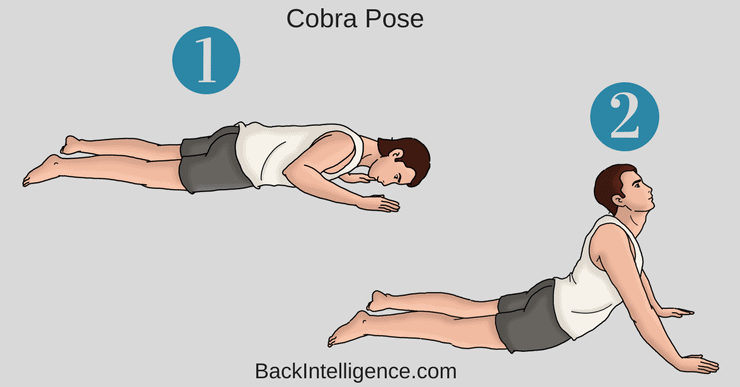 The full cobra pose creates even more spinal extension than half cobra helping push the nucleus (jelly) back towards the center and reduce bulging disc.
How to do it:
● Begin lying on the ground with your hands flat on the floor at the level of your shoulders
● Slowly push your hands to raise your shoulder off of the ground until you feel a slight stretch
● Increase your range of motion by exhaling as you push further into lumbar extension
● Aim for 5 repetitions
Exercise #5: Abdominal Drawing Maneuver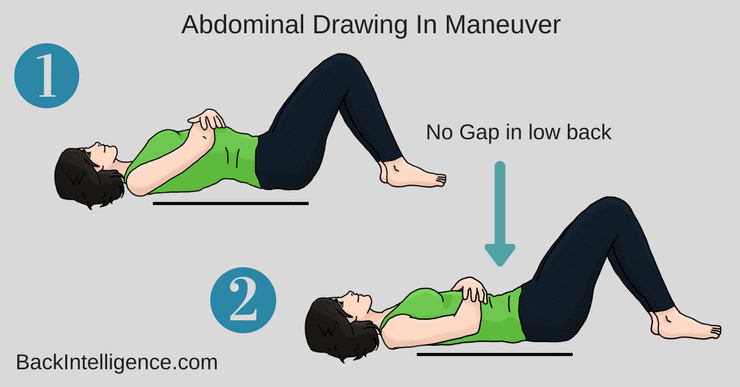 A solid core foundation helps provide stability which in turn prevents re-injury and further injury from occurring. This will help reset the spine into neutral position.
How to do it:
● lie on your back
● bend your knees
● contract your stomach muscle (Abdominals)
● Hold for 5 seconds
● Release
● Perform 3 x 20 sets daily
Other forms of exercise that may help, that were not mentioned above include walking, pilates, and yoga. Walking is low-impact form of exercise that has long been shown to reduce the incidence of low back pain[3] Walk 30 mins 3-5 days a week . Yoga therapy can be safe and beneficial for patients with LBP or sciatica, accompanied by disc extrusions and bulges. Research has shown it to be just as effective as exercise in the management of LBP [4].
Seeing a primary musculoskeletal care provider is the best approach if your symptoms are not resolving. This includes DO/MD/DC/DPT. In many states, you can see a Physical Therapist (DPT) without a Physician Referral.
Written by Dr. Brandon Smith & Leon Turetsky
Related Articles:
Herniated disc exercises
How to fix pain between shoulder blades
What are myofascial trigger points and how to release them
Self Massage Techniques
Spinal Decompression at home

Dr. R. Brandon Smith DPT, MPH – Doctor of Physical Therapy, Master of Public Health. Dr. Smith is passionate about addressing motor control and mobility/stability limitations through orthopedic and neuromuscular rehab, and always putting a emphasis on healing.
Leon is a Corrective Exercise Specialist (NASM-CES), Certified Personal Trainer (NASM-CPT), Professional dancer. As a long time back sufferer Leon found unique methods to alleviate his pain using natural methods including self massage, exercise/stretching and postural habits. He founded Backintelligence.com to empower others to ease their back pain from their homes.
References:
1. Meziat Filho N, Santos S, Rocha RM. Long-term effects of a stabilization exercise therapy for chronic low back pain. Man Ther. 2009;14(4):444-447. doi:10.1016/J.MATH.2008.10.002.
2. Evans C, Gilbert JR, Taylor W, Hildebrand A. A randomized controlled trial of flexion exercises, education, and bed rest for patients with acute low back pain. Physiother Canada. 1987;39(2):96-101. doi:10.3138/ptc.39.2.096.
3. Liddle SD, Baxter GD, Gracey JH. Exercise and chronic low back pain: what works? Pain. 2004;107(1-2):176-190. doi:10.1016/J.PAIN.2003.10.017.
4. Mazloum V, Sahebozamani M, Barati A, Nakhaee N, Rabiei P. Randomized clinical trial The effects of selective Pilates versus extension-based exercises on rehabilitation of low back pain. J Bodyw Mov Ther. September 2017. doi:10.1016/J.JBMT.2017.09.012.
5. Monro R, Bhardwaj AK, Gupta RK, Telles S, Allen B, Little P. Disc extrusions and bulges in nonspecific low back pain and sciatica: Exploratory randomised controlled trial comparing yoga therapy and normal medical treatment. J Back Musculoskelet Rehabil. 2015;28(2):383-392. doi:10.3233/BMR-140531.
6. Brinjikji W, Luetmer PH, Comstock B, et al. Systematic literature review of imaging features of spinal degeneration in asymptomatic populations. AJNR Am J Neuroradiol. 2015;36(4):811-816. doi:10.3174/ajnr.A4173.
7. Low Back Pain Fact Sheet | National Institute of Neurological Disorders and Stroke. https://www.ninds.nih.gov/Disorders/Patient-Caregiver-Education/Fact
8. Freburger JK, Holmes GM, Agans RP, et al. The rising prevalence of chronic low back pain. Arch Intern Med. 2009;169(3):251-258. doi:10.1001/archi
9. Cuchanski M, Cook D, Whiting DM, Cheng BC. Measurement of occlusion of the spinal canal and intervertebral foramen by intervertebral disc bulge. SAS