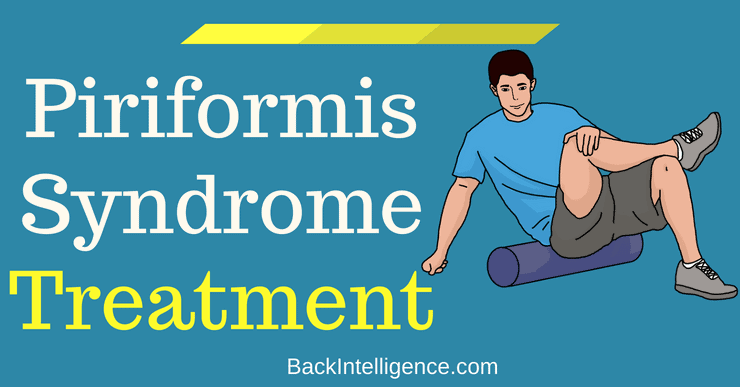 What is Piriformis Syndrome?
Have you ever had pain starting deep in your butt and/or hip that travels down your leg?
This can be due to the piriformis muscle compressing on the sciatic nerve, referred to as piriformis syndrome.
The piriformis muscle is one of the deep hip stabilizers. It's location is deep in the buttocks area.
* It is responsible for external rotation, abduction, and extension of the hip joint. It also helps to stabilize the hip joint.
And the sciatic nerve runs right under the piriformis muscle (See image below)..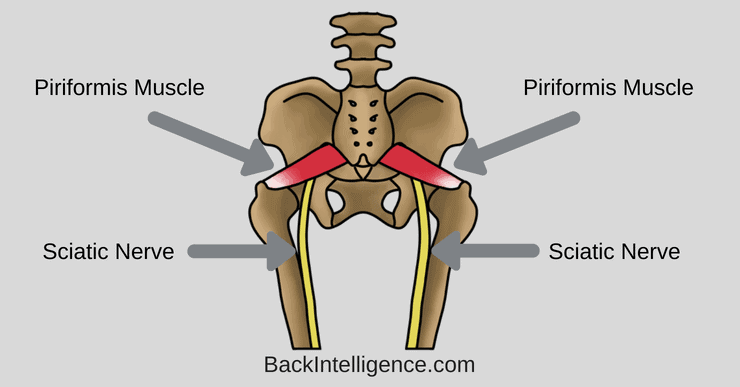 Now that you understand how close these two structures are to one another, it's easy to see why an overly tight or swollen piriformis muscle can press (impinge) on the sciatic nerve and cause pain.
Symptoms of Piriformis Syndrome
Piriformis syndrome has typically been characterized by the following symptoms
• Sciatica (irritation of the sciatic nerve)
• Pain tingling, or numbness in the buttocks – similar to sciatica but doesn't have to travel(radiate) down the legs
• Pain that travels down the leg.
• Pain that worsen after sitting for a long time
• Pain located to the buttock and low back region after climbing stairs, walking, squatting, or running.
Leon's Notes:
Many people confuse having Sciatica with Piriformis Syndrome. True
Sciatica
comes from Bulging/herniated discs and should be treated differently.
In a way, the piriformis syndrome is easier to relieve and it's less serious!

Main Causes of Piriformis Syndrome
• Overuse of piriformis muscle which causes it to tighten, spasm, and get inflamed.
• Some trauma to the buttocks area.
• Weakness of Piriformis muscle and other butt muscles.
How About Piriformis Syndrome Treatment?
Below we're including 5 ways to help you manage your Piriformis Syndrome from home.
We'll focus on Self massage to start relaxing the muscle and then some stretches.
First, Start With Self Massage (SMR):
Before doing any stretches you should try to release this muscle with massage. We'll use a foam roller and massage ball for this.
1. Foam Roll The Muscle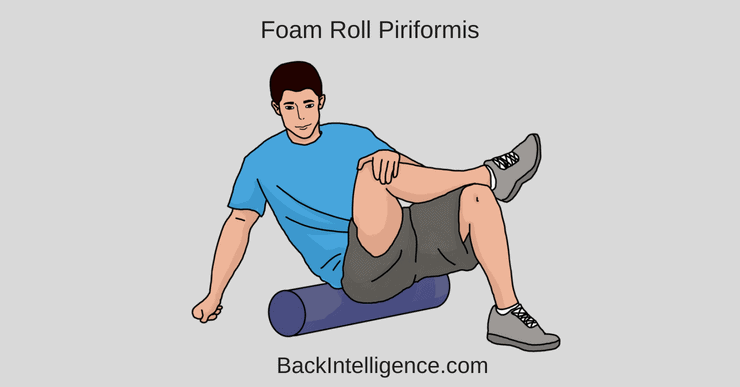 This helps release the piriformis muscle and take pressure off of the nerve.
How to do it:
– Start by sitting on a foam roll.
– Cross your affected leg on top of your other knee as shown.
– Lean slightly towards your affected side and find a tight spot.
– Hold 30-30 seconds on the tight spot.
– Find another tight spot in the same are and repeat.
2. Self Massage It Using Massage Ball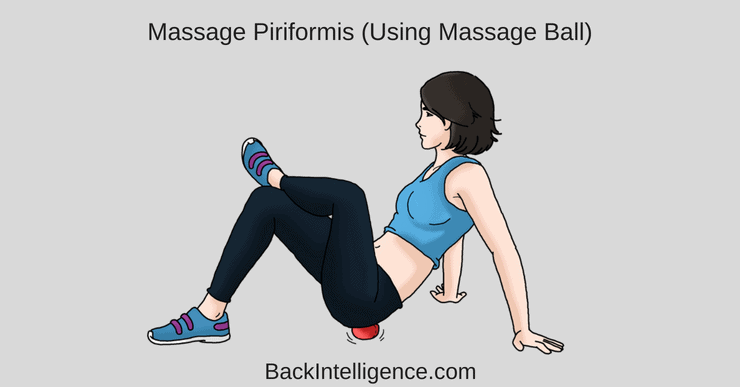 Using a massage Ball you can trigger the muscle even more precisely. Be careful when applying pressure to not overdo it.
How to do it:
– Begin in a seated position on the ground with your knees bent.
– Position a massage ball under your right buttock (affected area) and rest your hands on the ground behind your back.
– Cross the other leg (left) on top of the right leg.
– Find a tight spot and hold it for 30-60 seconds.
– Move on to the next tight spot.
Next, Piriformis Muscle Stretches:
1. Standing Piriformis Stretch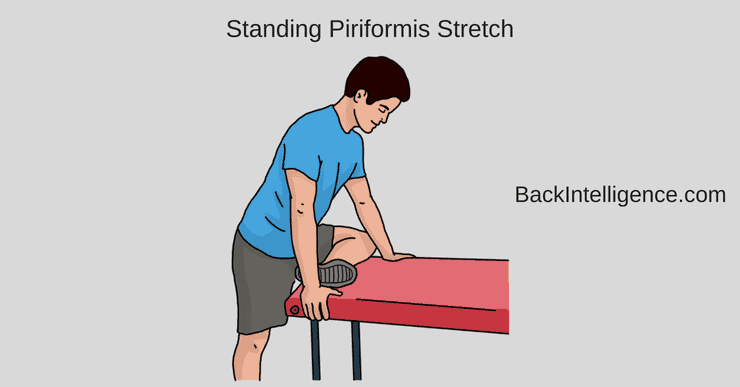 This helps by putting the piriformis in a nice stretched position. This stretch not only relieves piriformis muscle tension, but also may take stress of the sciatic nerve as well.
How to do it:
• Place your leg on top of a table top as shown.
• If a stretch in your buttock is not felt you can lean forward to increase the stretch.
• Hold 30-60 seconds and do about 2 sets on the affected leg/s.
3. Supine Hip/Piriformis Stretch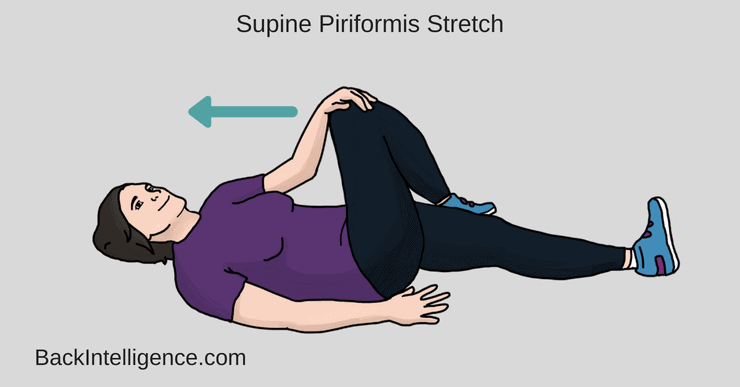 It stretches the piriformis muscle as well as other muscles in the region which helps take tension off of the sciatic nerve.
How to do it:
• Lie on your back as shown.
• Cross one foot over the opposite knee and keep your foot on the floor/mat.
• Pull the knee with the opposite hand toward the opposite shoulder.
• Hold 20-30 seconds. Repeat 2-3 times per side.
3. Pigeon Pose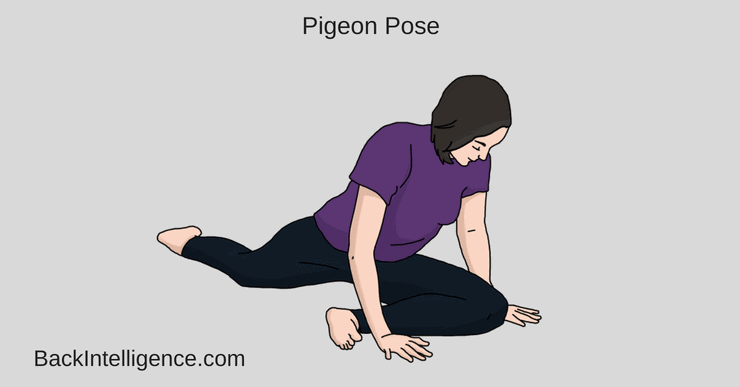 Another way to stretch your hips and this buttocks.
How to do it:
• Position one leg in front of the other (Affected leg in front).
• Bring the outer thigh of front leg down to the floor (as much as you can).
• If you need to make this stretch deeper, simply lean forward a little.
• Hold 20-30 seconds. Repeat 2-3 times per affected side.
4. Lying Figure-4 Stretch (For Piriformis)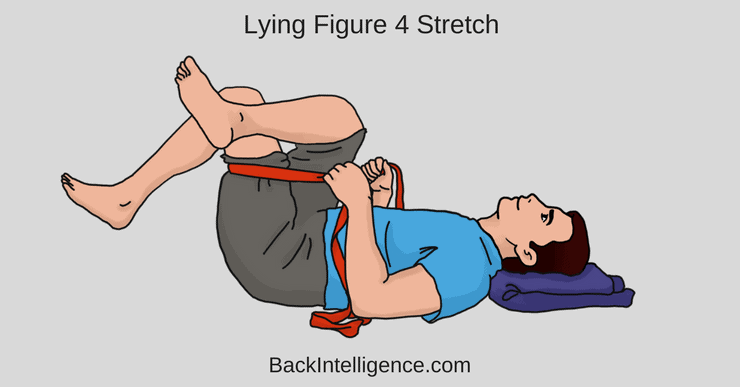 This stretch will relieve the tension in the piriformis, to ensure that it's not compressing on the sciatica nerve.
How to do it:
● Begin lying on your back with your knees bent and feet positioned flat on the floor
● Place your right ankle over your left knee
● Use your hands or a band to pull the left thigh towards your chest, and hold for 20 to 30 seconds
● Repeat on the other leg
● Aim for 3 repetitions on each side
Lastly, Strengthen The Butt & Piriformis: Hip Abduction:
After you have relieved the tension in this muscle, it is recommended that you start to strengthen this muscle and surrounding muscles.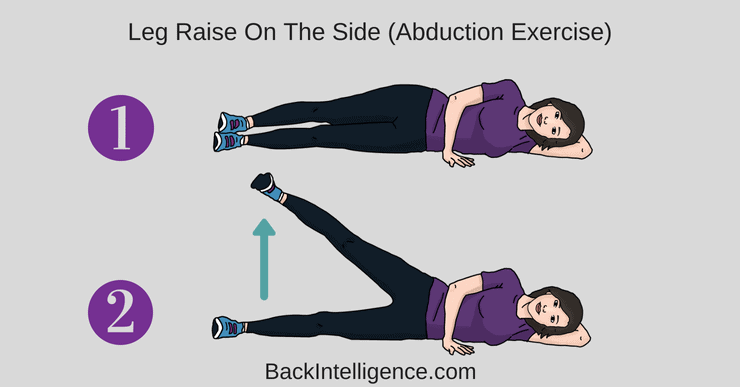 By strengthening the muscles of the hip and butt – we are able to stabilize the body better and reduce our risk of developing injuries and allow our bodies to move the active way they were intended to without pain.
How to do it:
While lying on your side, slowly raise up your top leg to the side. Keep your knee straight and maintain your toes pointed forward the entire time. Keep your leg in-line with your body.
The bottom leg can be bent to stabilize your body.
Check out this video to learn more about the Piriformis Syndrome & Releases For it:

Related:
Sciatica Exercises
Si Joint Exercises
Pulled Muscle in low back treatment
How To Do Self Massage
Written by Leon Turetsky & Dr. Brandon Smith
References:
Frank RM, Slabaugh MA, Grumet RC, Virkus WW, Bush-Joseph CA, Nho SJ. Posterior Hip Pain in an Athletic Population: Differential Diagnosis and Treatment Options. Sports Health. 2010;2(3):237-246. doi:10.1177/1941738110366000.
Hopayian K, Song F, Riera R, Sambandan S. The clinical features of the piriformis syndrome: a systematic review. European Spine Journal. 2010;19(12):2095-2109. doi:10.1007/s00586-010-1504-9.
Martin HD, Reddy M, Gómez-Hoyos J. Deep gluteal syndrome. Journal of Hip Preservation Surgery. 2015;2(2):99-107. doi:10.1093/jhps/hnv029.
Maxwell TD. The piriformis muscle and its relation to the long legged sciatic syndrome. The Journal of the Canadian Chiropractic Association. 1978;22(2):51-55.
Corrective Exercise Specialist (NASM-CES), Certified Personal Trainer (NASM-CPT), Professional Dancer
As a long time back sufferer Leon found unique methods to alleviate his pain using natural methods including self massage, exercise/stretching and postural habits. He founded Backintelligence.com to empower others to fix their postures and ease their back pain from home.
Co Authors :