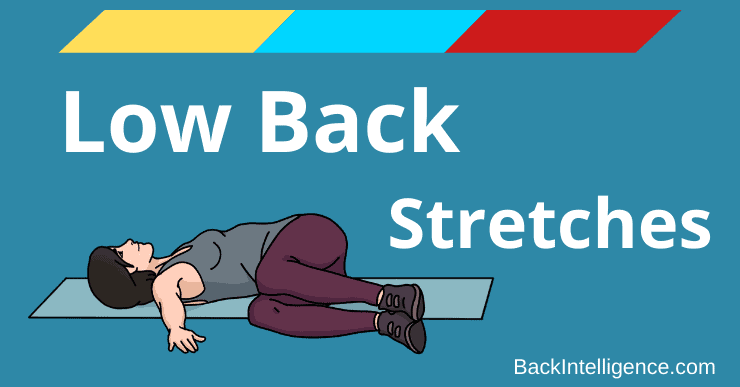 Low back pain is a worldwide epidemic that is responsible for work absence, disability, pain and limitation of regular daily activities.[1] Doing Lower back stretches is one way to relieve the pain/tightness you may be feeling.
While there is no consensus on the best treatment method, there is evidence showing that Stretching and Exercise can be utilized to manage lower back pain.[1][2]
Also, there is a strong correlation between restricted hip mobility and low back pain, therefore we included several hip stretches below.[1]
By the way, if you're looking for more specific low back conditions check out: Herniated disc exercises and Sciatica exercises.
Before we dive into the 7 stretches for low back pain, let's discuss the 2 techniques we recommend you do these stretches with.
2 Lower Back Stretching Techniques are: Dynamic stretches and Static stretches.
They both proved to be effective at increasing flexibility.[3]
What is Static Stretching?
Static Stretching is when you take a muscle to its end range of motion, and then hold it for about 20-30 sec. This is what most people think of when they consider stretching.
What is Dynamic Stretching?
Dynamic stretching means you will be moving in-and-out of the stretch, rather than holding it for a prolonged period of time. To be more specific, you will stretch up to your end range of motion, and then hold 2-5 sec, before retracting to starting position.
Please note the technique recommended for each stretch below.
Note:
The following stretches were hand-picked to ensure they are safe for your back. They are appropriate for chronic pain or if you just
threw out your back
. If you feel any pain with any of them, please stop and try another one.
7 Effective Stretches for Lower Back Pain
Stretch #1: Cat & Cow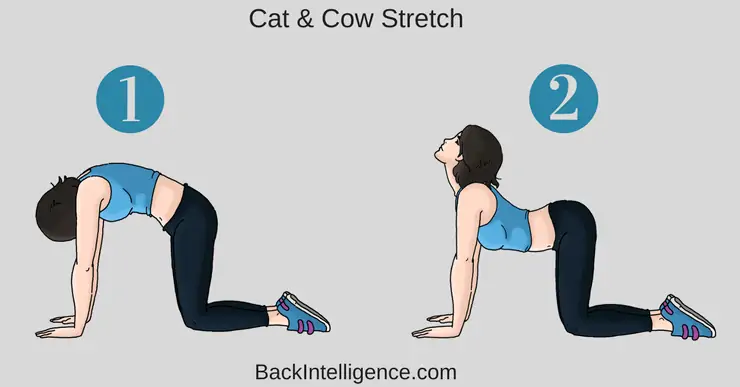 This stretch helps to release out the tightened muscles in the low back and pelvic area.
Method used: Dynamic Stretching
How to do it:
Begin this stretch on your hands and knees.
Inhale, arch your low back (from pelvis) and let your stomach "drop" towards the floor as you look up towards the ceiling.
Exhale and slowly round your spine while pressing into the floor with your hands and slightly curving your neck to look at your feet (curve your back).
Aim for 10 repetitions of this stretch.
Stretch #2: Modified Child's Pose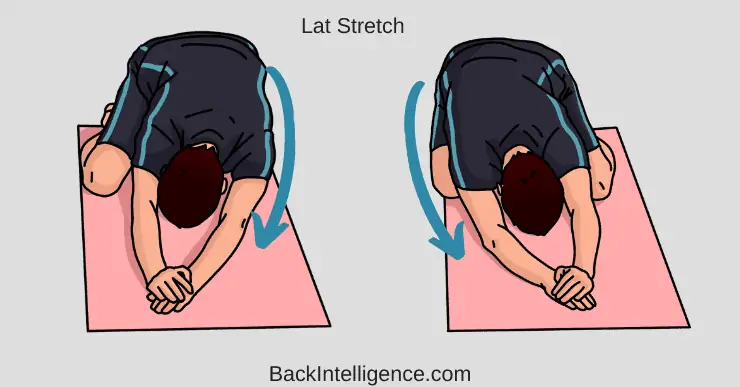 This modified child's pose targets both sides of the Lat muscle. The Lat muscle goes all the way from your pelvis to your shoulder blade and it has a propensity to get tight on most people.
Method used: Static Stretching (Each side)
How to do it:
Kneel down and extend both arms in front of you on the mat.
Now, put your right hand over your left hand.
Lean back towards your left hip, while keeping both arms on one spot.
Feel the stretch the left side.
Hold for 30 sec.
Unclasped hands, switch hands and repeat of the right side.
Stretch #3: Kneeling hip flexor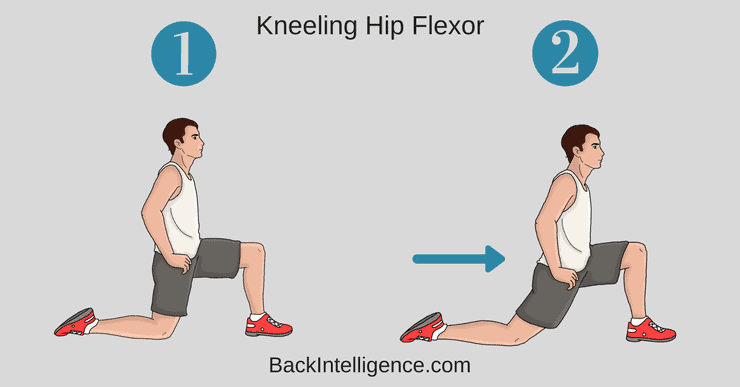 This stretch helps to lengthen tightened hip flexors that are often tight on most people.
Method used: Static Stretching
How to do it:
Begin this stretch by kneeling on a soft surface.
Bring your right leg in front and place your foot flat on the ground so that your knee is positioned over your ankle.
Your back leg (left knee) should remain in contact with the floor.
Squeeze your left gluteal muscles and shift your hips forward.
You should feel the stretch in the left hip flexor.
Hold the end position for 20 seconds.
Switch legs and repeat the hold for another 20 seconds.
Aim for 2 Sets for each leg
Related Course:
The Complete Low Back Fix (With Dr. Oliver, DC)
Ease your Low back pain, gain mobility and get back to the things you enjoy doing.
Learn More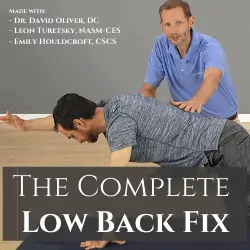 Stretch #4: Frog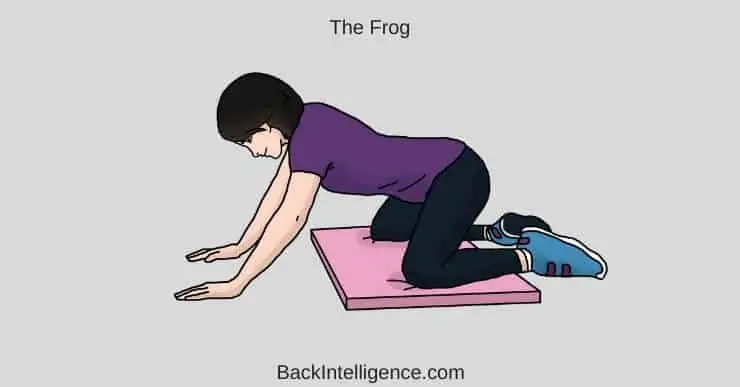 This stretch is great for opening up your hips and adductors.
Method used: Static Stretching
How to do it:
Get on all fours
Open your knees wider than hips (as wide as you can)
Feel the stretch in your hips and inner thighs
Rock forward and back slightly (in and out)
Hold the stretch for up to 60 sec at a time
Stretch #5: Knee Twists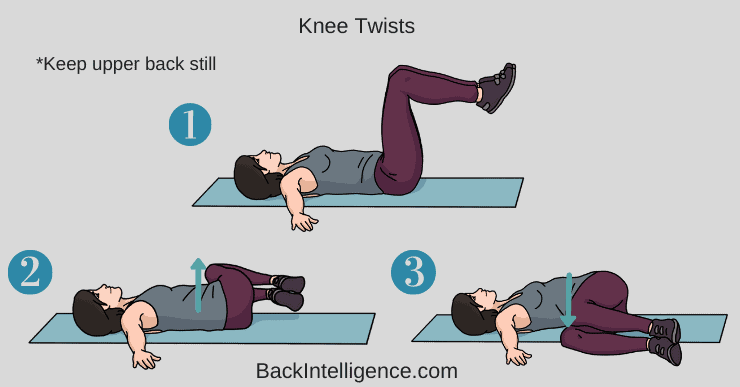 Knee twists are a good exercise to mobilize the low back and hip area. Do this one gently and don't push into any pain.
Method used: Dynamic Stretching
How to do it:
Lay your back, spread your arms to the side and bring your knees up to 90 degrees.
Without moving your arms and upper body, twist your hips to the left side and try to touch the floor (Or go as far as you can)
Hold for 2 sec at end range
Now twist your hips to the opposite side (right)
Hold for 2 sec at end range
Repeat this 15 times total (7 to each side)
Stretch #6: Lying Figure 4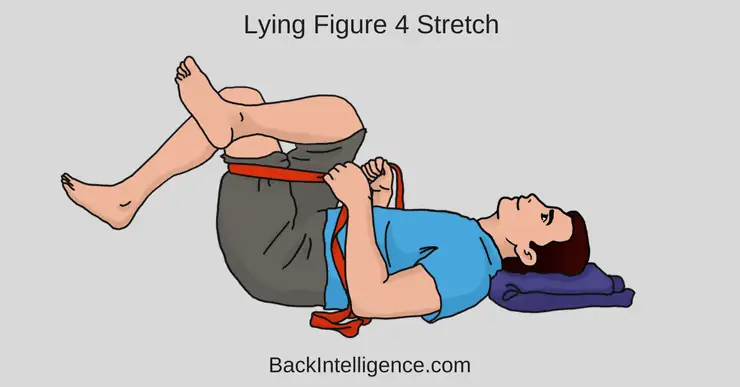 This stretch will release your glute muscles (butt) and low back area.
Method used: Static Stretching
How to do it:
Begin lying on your back with your knees bent and feet positioned flat on the floor
Place your right ankle over your left knee
Use your hands or a band to pull the left thigh towards your chest, and hold for 20 to 30 seconds
Repeat on the other leg
Aim for 2-3 repetitions on each side
Stretch #7: Half Cobra Pose (Press Up)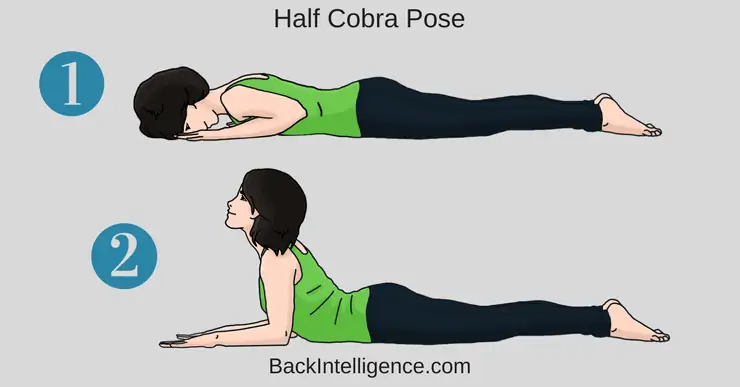 The half cobra pose creates spinal extension helping to reverse all the rounding/hunching that people do most of their day.
Method used: Dynamic Stretching
How to do it:
Begin this exercise by lying on your stomach (prone position) and slowly prop yourself up on your elbows while keeping your hips in contact with the floor.
Hold the prop-up position for 3 seconds before returning to the prone position (lying face down).
Aim for 10 repetitions of this stretch.
** Initially, you may not be able to tolerate this position very well, so make sure you start slowly and carefully.
Check out this video:
Related:
Anterior Pelvic Tilt Exercises
Tailbone Pain Exercises
Spondylolisthesis Treatment
3 Exercises To Avoid For Back Pain
Is Walking Good For Lower Back Pain?
Lumbar Spinal Stenosis Treatment At Home
5 Sciatica Exercises With Pictures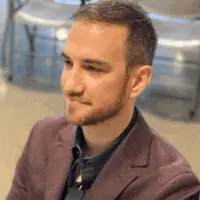 Corrective Exercise Specialist (NASM-CES), Certified Personal Trainer (NASM-CPT), Professional Dancer
As a long time back sufferer Leon found unique methods to alleviate his pain using natural methods including self massage, exercise/stretching and postural habits. He founded Backintelligence.com to empower others to fix their postures and ease their back pain from home.