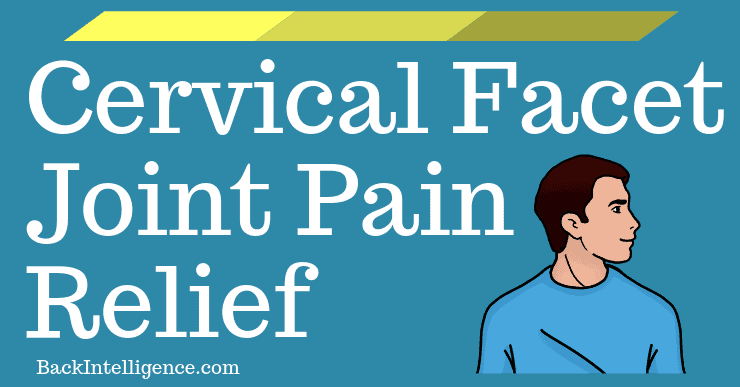 Neck (Cervical) pain is a common condition that often becomes chronic in nature, with prevalence ranging from 30% to 50% over the course of 12 months.[1]
Problems with the Cervical facet joints are one of the most common sources of neck pain – a 2004 study found that prevalence of facet joint pain in patients with chronic cervical spine pain is approximately 55%. [2]. The good news is that conservative care, including stretching and strengthening exercises, as well as postural correction, can often help to minimize the symptoms of cervical facet joint syndrome.

Symptoms of Cervical Facet Joint Syndrome
Achy, widespread (Diffuse) pain felt in the shoulders, neck and back of the skull, and/or upper and mid back.[3]
Pain may be constant or come and go.
Decreased extension and rotation of the neck accompanied by an increase in pain.[7]
Pain and tenderness to palpation around the affected facet joint. [7]
Recurrent headaches, typically located in the back of the head.[8]
May be a history of a hyperextension injury (whiplash) or trauma.[3]
Causes of Facet Joint Pain
Pain in the cervical facet joints can result from either degenerative or traumatic causes.[3]
Traumatic causes include acute trauma to the neck that may be associated with a fracture, dislocation or whiplash disorders.[3]
Degenerative changes are caused by the cartilage inside the facet joints, often together with intervertebral disc wear and tear – Which can cause the joints to wear down and become inflamed, often referred to as: Facet joint degenerative osteoarthritis. This can trigger pain and inflammation around the neck and upper back. [3][7]
Risk factors for Cervical Facet Joint Pain
Conditions that change the alignment and movement of the facet joints in the neck increase the risk of cervical facet syndrome, and include:
• Injury (i.e. whiplash, repetitive strain injuries).[3]
• Obesity.
• Poor posture
• Spinal conditions
Treatment for Cervical Facet Joint Pain
Resting to allow the facet joints to relax and reduce inflammation.
Applying ice to the affected area in 10 to 15 minute intervals to help reduce inflammation.[3]
Stretching and strengthening exercises to help strengthen the muscles in the affected area and encourage proper posture and movement.[3][7]
Maintaining proper ergonomics and posture to keep the facet joints in alignment and reduce unnecessary pressure on the affected facet joints.
Medications, such as non-steroidal anti-inflammatory drugs (NSAIDs) or muscle relaxants, to ease muscle spasm in the muscles surrounding the affected facet joints.[3]
Cervical Facet Joint Exercises For Pain Relief:
Exercise #1: Neck Rotations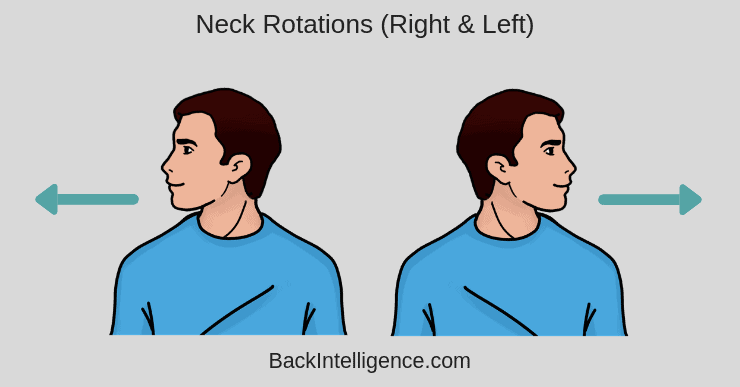 This will add some range of motion to the neck.
How to do it:
– Draw your navel in and stretch your spine
– Slowly rotate your neck to the right
– Then rotate your neck to the left
– Repeat 10-15 times
* Only rotate to a pain-free range. Don't push through any pain.
Exercise #2: Levator Scapulae Stretch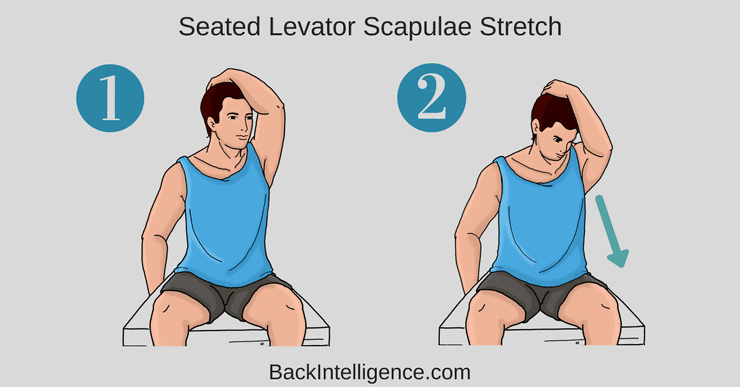 This will release the neck muscles, as well as open up the facet joints in the back – providing some relief.
How to do it:
– Begin in a seated position and grasp the bottom of your chair with your right hand.
– Bring your chin in towards your chest and rotate your head towards the left shoulder.
– Then using your left arm gently push your head down looking towards your left armpit until you feel a slight stretch along with right side of your neck.
– Hold this position for 15 to 20 seconds.
– Repeat on the opposite side
– Aim for 3 repetitions of this stretch on each side.
Exercise #3: Chin Tucks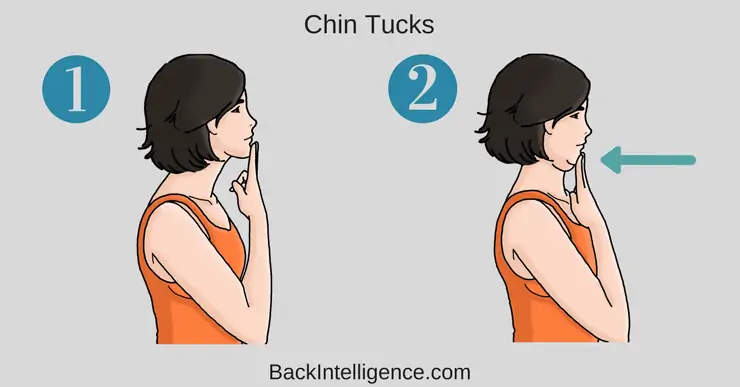 This exercise will activate and strengthen your deep cervical muscles (front of the neck muscles).
Place 2 fingers at the bottom of your chin.
Gently tuck your chin in and retract your head backwards. At the same time, use your fingers to keep the chin tucked in the entire time.
Hold the end position for 3 to 5 seconds.
Relax your neck for a moment (Let the neck come fwd).
Aim for 2 to 3 sets of 10 repetitions.
** You should feel like the back of your neck is lengthening or "pulling up", and there will be packing in front of your neck.
Related:
Lumbar Facet Joint Pain Relief
Cervical Herniated Disc Exercises
Stiff neck remedies
Sources:
Sources:
[1] Steilen D, Hauser R, Woldin B, Sawyer S. Chronic Neck Pain: Making the Connection Between Capsular Ligament Laxity and Cervical Instability. Open Orthop J. 2014;8(1):326-345. doi:10.2174/1874325001408010326
[2] Manchikanti L, Boswell M, Singh V, Pampati V, Damron K, Beyer C. Prevalence of facet joint pain in chronic spinal pain of cervical, thoracic, and lumbar regions. BMC Musculoskelet Disord. 2004;5(1). doi:10.1186/1471-2474-5-15
[3] Kirpalani D, Mitra R. Cervical Facet Joint Dysfunction: A Review. Arch Phys Med Rehabil. 2008;89(4):770-774. doi:10.1016/j.apmr.2007.11.028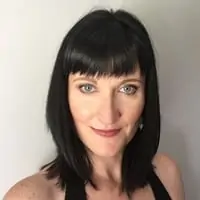 Licensed chiropractor, DC (Owner of Forme Clinic, Stoney Creek, ON, L8G 1B9)
Dr. Shaina McQuilkie graduated from Brock University in 2004 with a Bachelor of Kinesiology (Honours). She then attended D'Youville College, in Buffalo, New York and obtained her Doctorate of Chiropractic Degree in 2008. After graduating, Dr. McQuilkie practiced in a multi-disciplinary healthcare facility based in Hamilton, Ontario gaining experience treating a variety of musculoskeletal injuries.