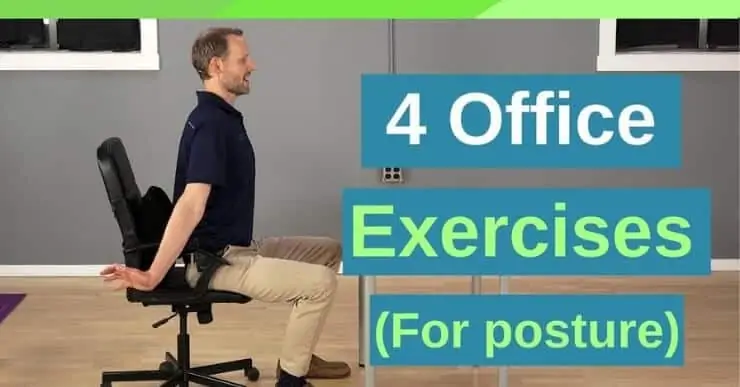 We all know that sitting is not the best for us, especially when working for long periods of time. Prolonged sitting can lead to backaches, neck aches, shoulder pain, and hip pain, just to name a few. There are also a myriad of health problems that can be caused by not moving throughout our day.
So… "HOW can I break up my long day of sitting at work/office?"
Taking frequent, quick standing and stretching breaks can help greatly. In this video, Dr. David Oliver, DC goes over just 4 simple and quick exercises to do.
Some things to keep in mind:
Dr. Oliver suggests that you should always break up your work day by getting up and moving every 30-40 minutes, especially if you don't have a standing desk.
The following exercise routine should be done once every 1-2 hours.
Each exercise can be done for a minimum of 5 times each. You can do more if you'd like.
For the exercises that can be done in sitting OR standing, Dr. Oliver suggests doing them while standing.
Move through these slowly- do not rush!
None of these exercises should cause pain, so do not push into a painful range, or do not do any exercise that causes pain.
Here are 4 exercises you can do at your office
Exercise #1: Bruegger's Relief Position
Oftentimes, we sit with rounded shoulders as we type. This stretch can help reverse that rounded forward position.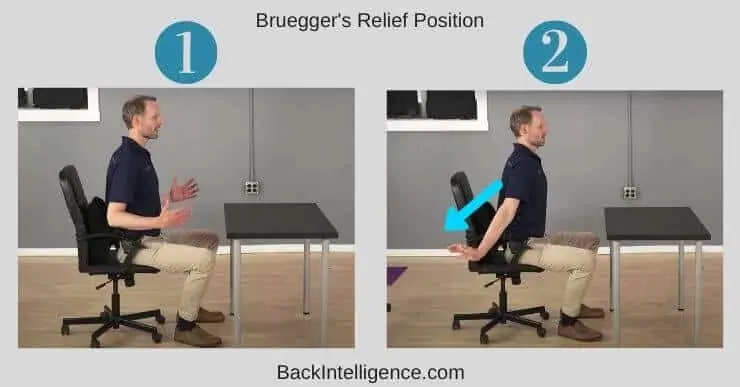 Most of us are rounded over our desks when we're working. So, we're going to reverse that and open up.
This can be done sitting or standing. This is good to do if you can't get up from your chair.
Back your chair away from your desk and scoot your hips to the edge of the chair.
While sitting upright, bring your hands down to your sides with your palms facing forward.
Extend your wrists and reach your fingers back, opening up the entire front of your chest and arm.
Your shoulder blades will slightly pinch together.
You should feel a stretch down your arm from your chest, forearms to hands.
Hold this position for a few seconds.
Back off this position.
Repeat at least 5 times.
Exercise #2: Back Extensions
Sitting rounds and FLEXES our body. This exercise can help open up and EXTEND our body.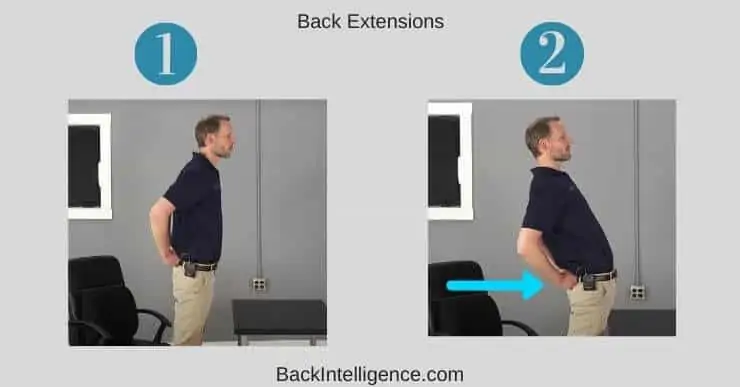 This should be done in standing.
Place your fists or hands on your belt line.
Extend back, by gently pushing your hips forward and extending your back.
You might feel some pressure in the back, but you should not feel pain.
Repeat at least 5 times.
Exercise #3: Chin Tucks
Chin tucks are a basic exercise to get you out of a forward head position.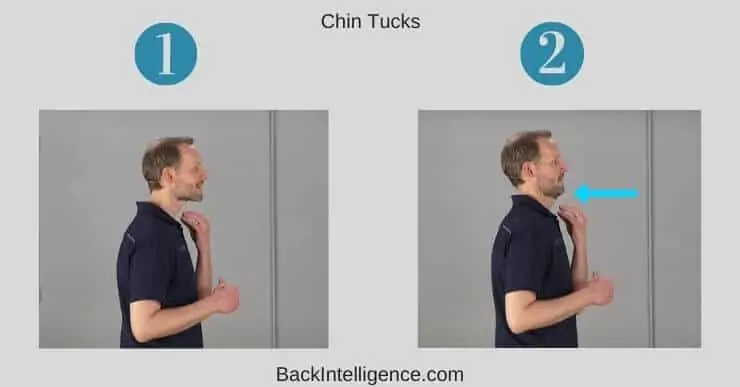 This exercise will activate and strengthen your deep cervical muscles (front of the neck muscles).
Place 2 fingers at the bottom of your chin.
Gently tuck your chin in and retract your head backwards. At the same time, use your fingers to keep the chin tucked in the entire time.
Hold the end position for 3 to 5 seconds.
Relax your neck for a moment (Let the neck come fwd).
Aim for 2 to 3 sets of 10 repetitions.
** You should feel like the back of your neck is lengthening or "pulling up", and there will be packing in front of your neck.
Related: Chin Tucks Exercise Video
Exercise #4: Side Bends
Even as we move through periods of sitting, standing and slouching, we do not get much lateral movement throughout our day. This exercise can help with that.
This exercise is done while standing
Place your arms and hands relaxed at your sides.
By leaning your trunk to one side, slide your hand down towards your knee.
You should feel a stretch on the opposite side of your trunk.
Alternate side bending right and side bending left.
Perform this at least 5 times to each side (10 times total).
Related:
Effects of SmartPhones on Posture & Breathing
5 Easy Desk Stretches
Stiff Neck Remedies You Can Do At Home
How To Get Rid of Neck Pain (9 Best Neck Stretches & Releases)
How To Fix Rounded Shoulders Posture – 5 Effective Exercises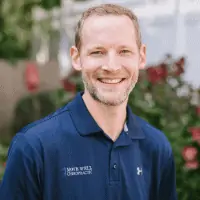 Dr. Oliver has been practicing in Massachusetts since 2007. He is a graduate of Marist College where he received a Pre-Med Bachelor of Science degree in Biology. Dr. Oliver then went on to pursue his chiropractic career by attending Palmer College of Chiropractic West, where he graduated Cum Laude. Dr. Oliver has his diploma in rehabilitation, which allows him to combine rehab and corrective exercise with traditional chiropractic treatment. This gives his patients better long term results.
Co Authors :