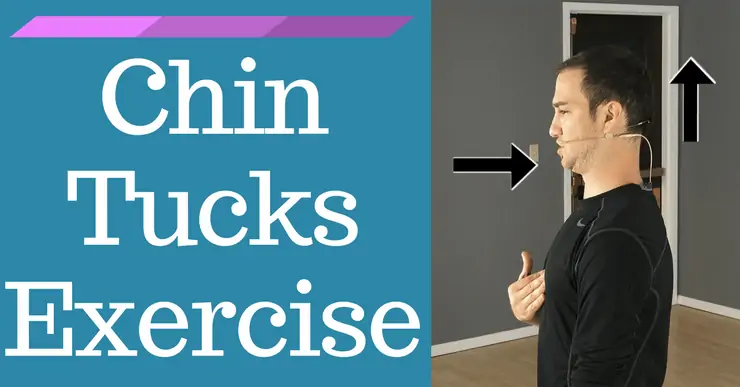 Today's video will show you how to do the chin tucks exercise correctly. The chin tucks is one of the best exercises you can do to fix forward head posture, relief of neck pain and correct rounded shoulders. Leave a comment if you have any questions.
Chin Tucks Exercise Video:
Learn more about forward head position
Recommended Program:
The Complete Posture Fix (With Dr. Oliver)
Fix your Rounded shoulders & Fwd Head posture, get out of pain and increase your mobility.
Learn More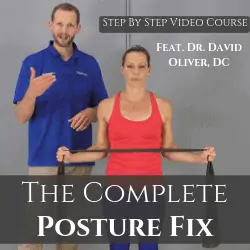 Chin Tucks Exercise Benefits:
1. The main benefit of Chin Tucks is that this exercise will strengthen the front of your neck muscles, which are weak on most people. This will allow your head to get back and align with your ears and shoulders.
2. This exercise will also stretch the muscles in the back of your neck, allowing your head to get into the correct posture.
3. Doing this exercise will also train your over postural Neuromuscular control, which will help you maintain proper posture in the long run.
[Transcript of Chin Tucks Exercise Video]
Today I wanted to talk to you about how to do the chin tucks exercise correctly. That is one of the most beneficial exercises you can do to fix your forward head posture. And we already had an entire video done by a chiropractor, Dr. Oliver, about forward head posture, the causes of it, why you need to fix it ASAP and he also gave three exercises, and we'll have a link to that video somewhere here on the video or it's going to be in the description below if you're watching on YouTube.
But one of the exercises that he mentioned was the chin tucks exercise, and that is one of the best exercises that you can do to fix your ugly head posture that we're all suffering from today. Now, so let me show you what it is. So, you're going to be here in your kind of relaxed position that we're all in these days. And then what you want to do—the first thing you want to do is you want to stretch up, so stretch your spine and then you want to tuck your chin in, bring your head back and continue stretching up.
Yeah, so one more time. You want to bring your head back from this area, so take it straight back and tuck your chin in as if you're trying to give yourself a double chin and then at the same time you want to stretch up the whole time. You want to feel like somebody is pulling you up from here. As you're pushing this back and in, you want to also stretch up, OK?
And so, there's really three things going on here. You want to take your head straight back from this part of the head, so back. You want to tuck your chin in, give yourself that nice double chin and then also stretch up, OK? So, that's what you got to do and again…and again release it and then bring it back, chin tuck and stretch up.
So, all those three things have to be present there in order for this exercise to work well because what is the whole idea of this exercise? It is to strengthen the front neck muscles here and to stretch the back muscles here and the shoulders. That's what's going to correct your forward head posture in the long-term. So, again, let's look at the right way of doing it. So you have three things.
First of all, before you even start doing this, make sure you're stretching up and then you're pulling your abdominal muscles in slightly, OK? So you want to really start in a good posture and then from here, if you just kind of—this is more of the—of my head going forward now. What I'm going to do is I'm going to pull my head back from this area, so just like this. Yeah. Hopefully you can see that. And I'm going to tuck my chin in and I'm going to continue stretching up. Very important to do all those three things together. So it's kind of like you're scooping it. You go back, tuck your chin in and stretch up at the same time, OK?
And so one of the biggest mistakes that we see out there is—what people are doing wrong is when they're doing this chin tuck, they're lifting their chin up like this or they're bring it down way like that. And that's not going to really be effective for you if you do it like that, yeah? So you don't want to look up or excessively bring your chin down like this. You want to make sure that you're bringing your head straight back while keeping your chin tucked in and then stretch up, OK? Hopefully you can see the difference, yeah?
Some people have really hard time bringing their head back in this position, OK. They just can't really feel it. So, what you want to imagine is that let's say you're getting punched from the side over here, from the side into your cheek and you just see it in the last moment. What are you going to do? Boom! You're going to take that head straight back, yeah? So, you're about to get punched, you know, and honestly you don't want to get punched. What you do, you're going to take your head—your neck and head back and that's kind of the idea here when you're doing it.
Now, of course, when you're doing the chin tucks exercise, you don't want to move your upper body at all so you don't want to rock like this. You just want to keep everything else still and only do it with the head and neck muscles, yeah? So, that's what you want to do here and I hope that analogy helps you.
And I can't emphasize the importance of keeping your spine stretching the whole time because if you start in the slouched position, if you have this rounded shoulder posture here that you're starting and then you're doing a chin tucks, it's not going to be really beneficial at all, right? You're not going to really be strengthening the front neck muscles and stretching out your back, neck muscles. It's just not going to be working well. So make sure you have already a pretty good posture that you're starting from and then you're just worrying about doing the chin tucks exercise, yeah?
Keep stretching your spine the whole time as you're bringing your chin in and back because the whole idea here is you're also training yourself to get back to that ideal posture position where the ear would be over the shoulders, over the hips so that would be all aligned together, and that's the ideal posture that you're going for. So that's why this chin tucks exercise is so effective because it gets that ear back into that position it should be in.
So last time here, you want to bring your head, tuck your chin in and stretch up. And then release and do it again. And chin tuck again. Stretch up as you're doing it. Keep your chin tucked in. And that's how you do the chin tucks.
[End of transcript]
Back to blog: Back relief blog
Visit our youtube channel: Back Intelligence youtube channel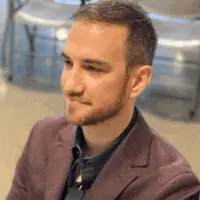 Corrective Exercise Specialist (NASM-CES), Certified Personal Trainer (NASM-CPT), Professional Dancer
As a long time back sufferer Leon found unique methods to alleviate his pain using natural methods including self massage, exercise/stretching and postural habits. He founded Backintelligence.com to empower others to fix their postures and ease their back pain from home.