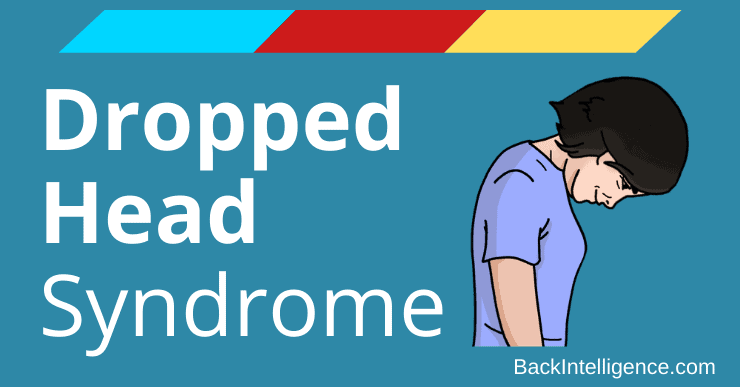 Dropped head syndrome (DHS) is known as a "chin on chest" deformity. It is a rare condition that is due to the gradual weakening of the muscles in the back of the neck, called "Neck Extensors".[1][2][3]
These Neck Extensor muscles help keep your head upright so you can look at the world in front of you. When these muscles become weak, they are then unable to hold the weight of the head and neck, therefore "dropping" the head forward and down.[1]
Dropped head syndrome typically affects older adults. The mean age range for people who get diagnosed with Dropped Head Syndrome is 63 Years of age.[4]
This neck deformity can be reversed (at least temporarily) by using passive head extension or by lying supine (on the back). [2][3]
Interesting Find: Upon admission a 67-year old man with DHS said he could maintain his head up with extreme effort only for about five minutes.[2]
Dropped Head Syndrome Symptoms
Below are common symptoms of dropped head syndrome. Someone who has DHS may have some OR all of these symptoms:
What Causes Dropped Head Syndrome?
According to a 2019 systematic review, Dropped Head Syndrome cases were due to:[4]
Isolated neck extensor myopathy, (31.8%)
Parkinson's disease (20.2%)
Myasthenia gravis (12.4%)
Amyotrophic lateral sclerosis, also known as ALS (7.0%)
Here is a more detailed breakdown of the many conditions that can cause DHS[6]:
Neurological
Amyotrophic lateral sclerosis (ALS)
Parkinson's disease
Cervical dystonia
Cervical myelopathy
Multiple system atropy
Postpolio syndrome
Chronic inflammatory polyneuropathy
Tardive dyskinesia
Neuromuscular
Myasthenia gravis
Lambert-Eaton myasthenic syndrome
Muscular
Polymyositis
Scleromyositis
Isolated inflammatory axial myopathy
Myopathy
Fascioscapulohumeral dystrophy
Postradiation neck extensor myopathy
Anterior scar contracture
Postbotulinum toxin injection
Cushing syndrome
Carnitine deficiency
Hypothyroidism
Hypokalemia
Hyperparathyroidism
Other causes
How Can you Treat Dropped Head Syndrome?
While surgery should be the last resort, at present, surgery seems to be the only definitive solution for correction and stabilization of DHS.[5]
As always, before considering surgery, make sure to get several opinions from several doctors.
The 3 ways to treat dropped head syndrome:
Received her Doctorate in physical therapy from Rutgers University in 2016. Since graduation she has been working mostly with outpatient orthopedics. She says: "I believe that if you can move freely and pain-free throughout your life, you can live life to it's fullest. As a Certified Strength and Conditional Specialist and a CrossFit coach, I believe that physical abilities are directly correlated with quality of life."
Co Authors :