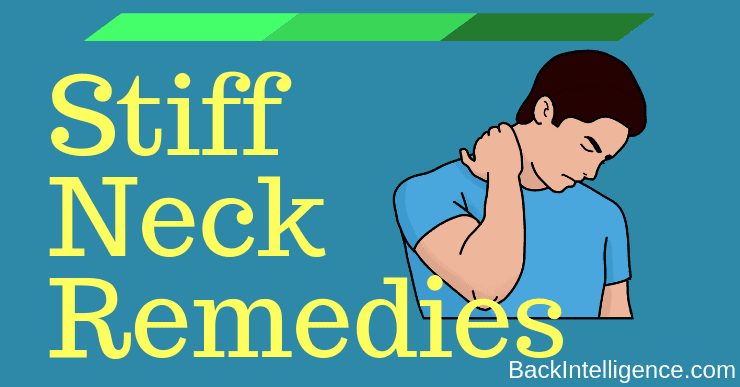 Estimates reveal that between 30% and 50% of adults experience neck pain at least once each year.[1][2]
Chances are, you've dealt with a stiff neck at some point during your life – maybe upon waking up, or after strenuous activity. Often, the discomfort and stiffness naturally subsides within a week or two. However, if you're dealing with a stiff neck, you may be looking for remedies that can help to ease your discomfort and encourage healing so that you get you back to your normal activities.
What Causes a Stiff Neck?
There are a number of reasons why you might be suffering with a stiff neck. The most common cause is a muscle strain. Other causes include disorders of the cervical spine. Below, we'll get into a little detail about each of these causes.
Common Cause: Muscle Strain
This is one of the most common reason or neck pain. Some of the muscles in your neck include the levator scapulae, upper trapezius and the sternocleidomastoid. These muscles can get strained by activities you do every day, such as:
Related: Pulled muscle in upper back
Other Causes: Disorders of the Cervical Spine
Your neck is comprised of many components including vertebrae, intervertebral discs, ligaments, and your spinal cord. Over time your spine can develop more serious conditions such as:
Cervical Degenerative Disc Disease[4]
Cervical Herniated disc[4]
Facet joint disorders[4]
Osteoarthritis of the neck[4]
And More
How To Lower Your Risk of Suffering a Stiff Neck:
If you want to avoid suffering a stiff neck in the future, there are a few things that you can do to protect yourself, including:
Always Use Good Posture
If you get in the habit of always using good posture, you'll be less likely to suffer from a stiff neck.
Keep Your Neck Healthy
When the muscles of your neck are flexible and strong, they're able to maintain good posture throughout the day and are less likely to spasm and lead to neck pain and stiffness. Try to incorporate stretching and strengthening exercises into your regular routine to keep your neck healthy.
Sleep on Your Back or Side
These two positions are the best for your neck as they help to keep your spine in a neutral position. More on this at the bottom of this article.
Set Up An Ergonomic Workstation[5]
If most of your work is done digitally (on a computer or phone), you'll want to make sure that you are positioned properly to avoid straining your neck and slouching forward. A couple of tips:
1. Ensure that the top third of your screen is at eye level.
Ensure that your monitor is placed 18 and 24 inches from your face. This promotes an upright head and neck posture.
2. Make sure your keyboard is at elbow height. This avoids a keyboard that is too high, which would make you elevate your arms and shoulders, straining the muscles in your neck.
3. Put Your Phone Down
Constantly looking down at your phone can cause an enormous amount of strain on your neck. Try to minimize the amount of time your spend texting and emailing on your phone. If you cannot avoid this, be sure to take breaks frequently (every 20-30 minutes).
More sitting posture tips at a desk here
7 Remedies For A Stiff Neck:
1. Rest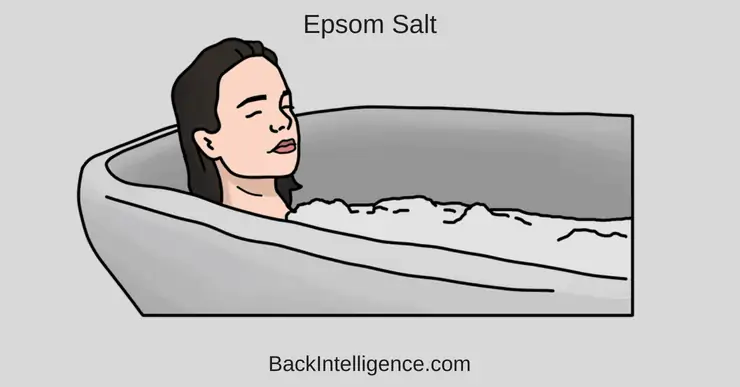 Giving your body a day or two to rest will allow the injured tissues time to start healing, which will help to relieve neck stiffness. However, limit rest to a couple of days because too much inactivity can actually lead to a worsening of symptoms.
2. Ice and/or Heat Therapy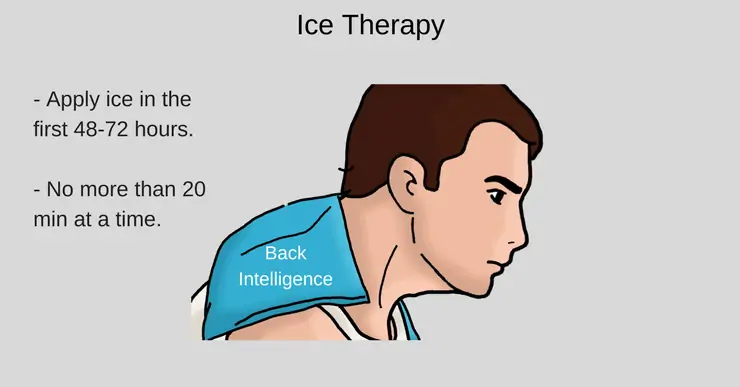 Applying ice packs to your neck for 15-minute intervals during the first 48 to 72 hours can help to reduce inflammation and pain. After the first 48 to 72 hours, applying moist heat to the area, for up to 20 minutes, can help to promote blood flow to the area and encourage healing. Additionally, the warmth can help to soothe sore muscles. You can also alternate these two therapies for optimal results.
Ice VS Heat For Back and Neck Pain
3. Self Massage Techniques
Using self massage techniques can help to soothe and relax tense neck muscles, thereby providing you with symptoms relief.[6][7]

A simple neck massage technique to try: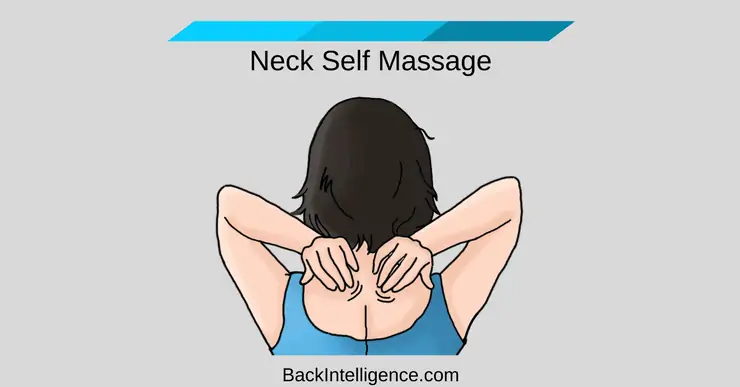 1. Begin in either a sitting or standing position.
2. Place two or three fingertips on the back of your neck where your neck meets your shoulders.
3. Apply firm pressure and hold the area.
4. Release when the muscle feels more relaxed.
5. Roll your shoulders forwards and back slowly.
6. Repeat three times.
If you also have shoulder stiffness, you can also try this simple shoulder massage technique: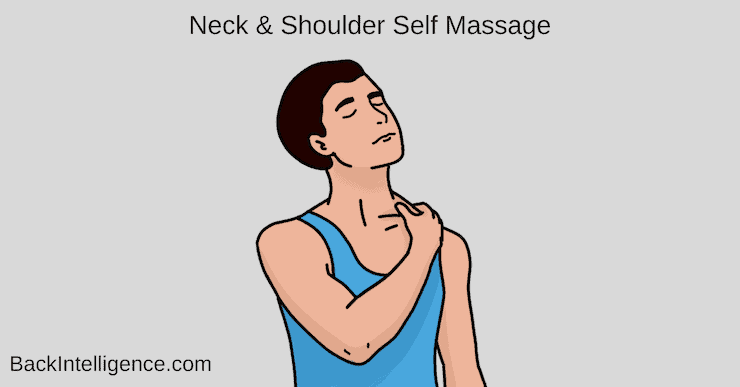 1. Position the fingers of your right hand over your left shoulder (your upper trapezius will be underneath your palm).
2. Squeeze your upper trapezius three times and then roll your fingers over the muscle starting from the outside and moving towards the base of your neck.
3. Repeat on your left side.

Check out more self massage techniques here
Recommended Program:
The Complete Posture Fix (With Dr. Oliver)
Fix your Rounded shoulders & Fwd Head posture, get out of pain and increase your mobility.
Learn More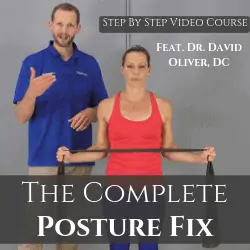 Next,
You should start simple neck stretches as soon as your body is able to tolerate it. Stretching helps to ease muscle tightness and restore normal range of motion of the neck.[7]
Below are some simple neck stretches to try:
4. SCM Stretch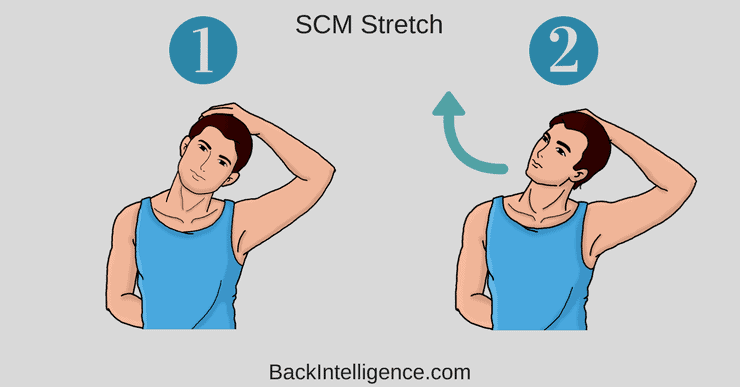 – Begin in a standing position with your neck retracted.
– Tilt your head to the right and rotate your chin upwards to the left until you feel a slight stretch on the left side of your neck.
– Hold this position for 15 to 20 seconds.
– Repeat on the other side.
– Aim for 3 repetitions of this stretch.
5. Neck Flexion

This will stretch the back of your neck muscles including the Suboccipital muscles.
First, tuck your chin in using 2 fingers of one hand.
Place your other hand on the back of your head and apply a gentle force down as you pull your head towards your chest.
When you feel a stretch at the back of your neck, hold the position for 20 to 30 seconds.
Repeat this stretch 3 times.
** Keep your chin tucked as you do this stretch.
6. Seated Levator Scapulae Stretch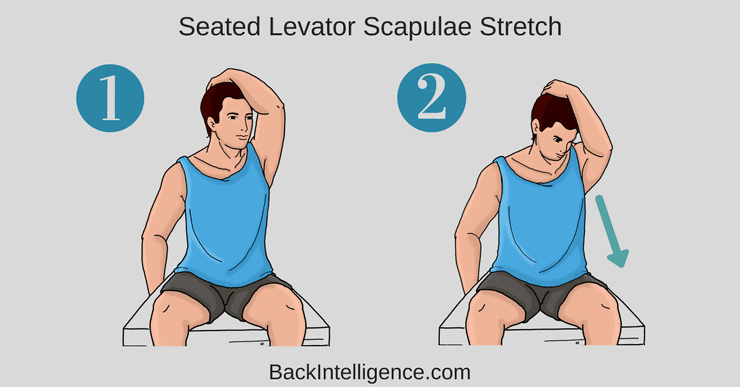 – Begin in a seated position and grasp the bottom of your chair with your right hand.
– Bring your chin in towards your chest and rotate your head towards the left shoulder.
– Then using your left arm gently push your head down looking towards your left armpit until you feel a slight stretch along with right side of your neck.
– Hold this position for 15 to 20 seconds.
– Repeat on the opposite side
– Aim for 3 repetitions of this stretch on each side.
Here is a video on how to stretch the Levator Scapula muscle.
7. Sleeping Position
Sleeping with your neck in proper alignment is crucial for treating a stiff neck. Ideally, you want to sleep on a firmer mattress and match your pillow height to your sleeping position.

If you sleep on your back: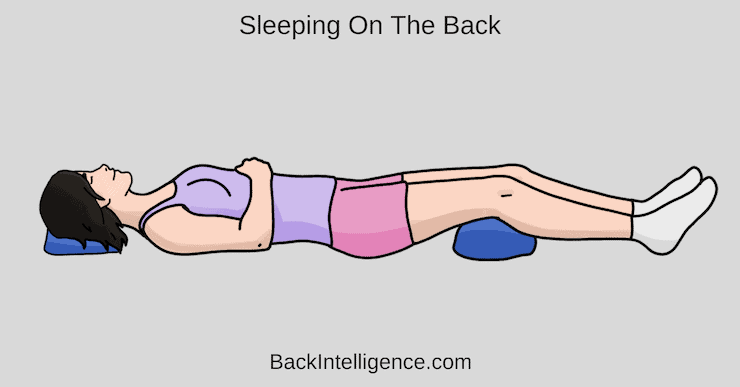 – It's best to use a thinner pillow to maintain the natural curve of your neck.

If you sleep on your side: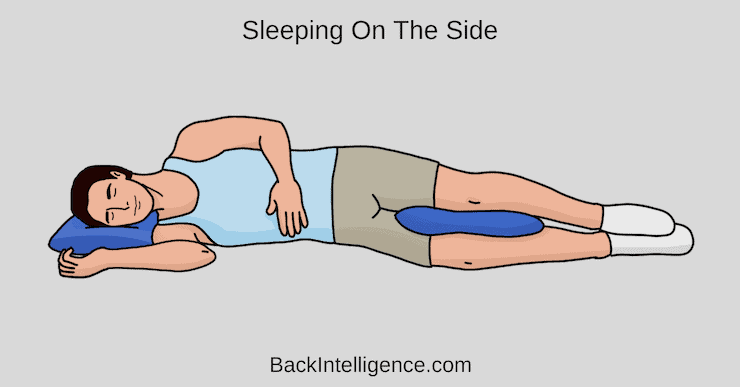 – It's best to use a thicker pillow so that your head and neck are positioned in the middle of your shoulders.
If you sleep on your stomach:
– It's best to avoid this sleeping position because it places additional stress on the muscles of your neck. If you can't avoid this position, try to either use a very thin pillow or skip using a pillow all together.
Also, Check out this video for more stretches:
Conclusion
If you're suffering from a stiff neck, using the therapies mentioned above should provide some relief from your symptoms. However, if your symptoms linger, you should consider consulting with a healthcare practitioner to ensure that your symptoms aren't due to an underlying condition.
Related:
Exercises for a pinched nerve in the neck
Cervical herniated disc exercises
7 Specific upper back stretches
How to get rid of neck pain
Sources:
[1] Scherer M, Schaefer H, Blozik E, Chenot J, Himmel W. The experience and management of neck pain in general practice: the patients' perspective.. European Spine Journal. 2010;19(6):963-971. doi:10.1007/s00586-010-1297-x
[2] Damgaard P, Bartels E, Ris I, Christensen R, Juul-Kristensen B. Evidence of physiotherapy interventions for patients with chronic neck pain: A systematic review of randomised controlled trials. ISRN Pain. 2013;2013:1-23. doi:10.1155/2013/567175
[3] Bogduk N. The anatomy and pathophysiology of neck pain. Phys Med Rehabil Clin N Am. 2003;14(3):455-472. doi:10.1016/s1047-9651(03)00041-x
[4] Abu Naser S, ALmursheidi S. A knowledge based system for neck pain diagnosis. WWJMRD. 2016; 2(4): 12-18
[5] Pereira M, Comans T, Sjøgaard G et al. The impact of workplace ergonomics and neck-specific exercise versus ergonomics and health promotion interventions on office worker productivity: A cluster-randomized trial. Scand J Work Environ Health. 2018;45(1):42-52. doi:10.5271/sjweh.3760
[6] Celenay S, Kaya D, Akbayrak T. Cervical and scapulothoracic stabilization exercises with and without connective tissue massage for chronic mechanical neck pain: A prospective, randomised controlled trial. Man Ther. 2016;21:144-150. doi:10.1016/j.math.2015.07.003
[7] Cohen S. Epidemiology, diagnosis, and treatment of neck pain. Mayo Clin Proc. 2015;90(2):284-299. doi:10.1016/j.mayocp.2014.09.008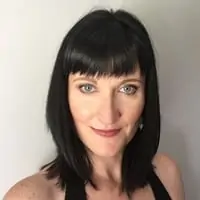 Licensed chiropractor, DC (Owner of Forme Clinic, Stoney Creek, ON, L8G 1B9)
Dr. Shaina McQuilkie graduated from Brock University in 2004 with a Bachelor of Kinesiology (Honours). She then attended D'Youville College, in Buffalo, New York and obtained her Doctorate of Chiropractic Degree in 2008. After graduating, Dr. McQuilkie practiced in a multi-disciplinary healthcare facility based in Hamilton, Ontario gaining experience treating a variety of musculoskeletal injuries.
Co Authors :