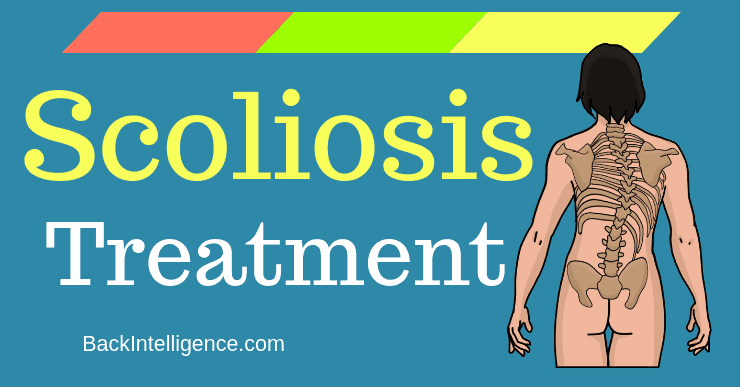 Scoliosis is a type of spinal deformity where the the vertebrae of the spine have an excessive curve to one side (laterally when looking from the back).
Scoliosis is determined when the curvature of the spine measures 10 degrees or greater on an X-ray.
Spinal curvature from scoliosis may occur on the right or left side of the spine, or on both sides in different sections. Both the thoracic (mid) and lumbar (lower) spine may be affected by scoliosis.
Here's an illustration of a spinal curve (from the back) with the left image showing a normal curve of the spine and the right image showing a spine with Scoliosis.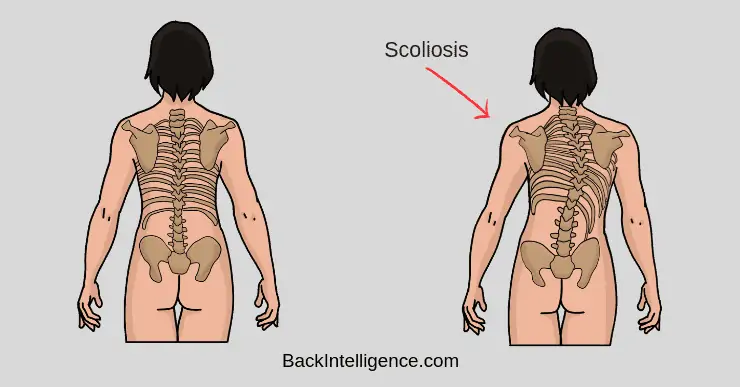 As you can see Scoliosis often appears like an S or C — with a rotation of the vertebrae. This curvature gives the appearance that the person is leaning to one side.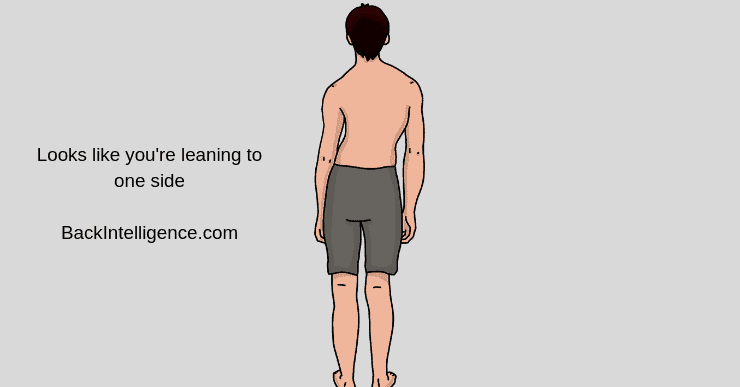 Also, normally one rib would pop up when the patient's spine is flexed forward.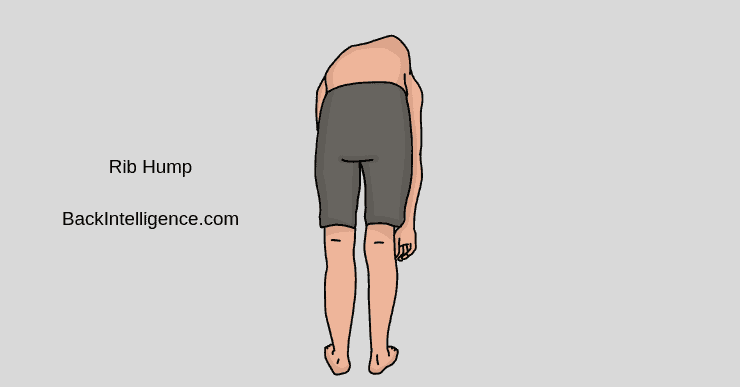 Fun Fact: Scoliosis comes from the Greek Word "skoliosis" meaning crooked.
The 3 Main Types of Scoliosis:
• Idiopathic (Cause unknown) – Most Common: 80%–90%
• Congenital
• Neuromuscular
#1 – Idiopathic Scoliosis (cause unknown)
Divided by age at diagnosis:
• Infantile idiopathic scoliosis (0 to 3 years)
– Accounts for 0.5% of idiopathic scoliosis
• Juvenile idiopathic scoliosis (4 to 10 years)
– Account for 10.5% of idiopathic scoliosis
• Adolescent idiopathic scoliosis (10-18 years)
– Account for 89% of idiopathic scoliosis
#2 – Neuromuscular Scoliosis (Cause known)
Neuromuscular scoliosis occurs in those who have medical conditions that impair their ability to control the muscles that support the spine. These include:
• Cerebral palsy
• Charcot-Marie-Tooth disease
• Poliomyelitis
• Spinal muscular atrophy
• Duchenne muscular dystrophy
• Neurofibromatosis
• Paralysis
• Arthrogryposis
• Congenital hypotonia
• Marfan syndrome
• Ehlers-Danlos syndrome
• Achondroplasia
• Osteogenesis imperfect
• Myelomeningocele
#3 – Congenital Scoliosis
The spinal defect is present at birth.
Scoliosis Causes:
Exact cause of scoliosis remains unknown; however, there are various factors that can influence the development of structural scoliosis, including:
• Genetics
• Siblings (seven times more frequently) and children (three times more frequently) of patients with scoliosis having a higher incidence
• Growth
• Hormonal dysfunction
• Bone mineral density change
• Abnormalities in body part tissue
• Abnormal platelet calmodulin levels
• Biomechanical factors
• Central nervous system abnormalities
Scoliosis Symptoms
• Head tilt
• Breathing problems
• Chest wall and back asymmetry, most notably posterior chest wall prominence
• Asymmetry of Shoulder
• Asymmetry of the scapulae, waistline, and/or hips
• Rib prominence (commonly referred to as a rib hump)
• Uneven nipple height
• Rotated torso
• Uneven muscle development
• Uneven hips (commonly referred to as a hip hike), creating a leg length discrepancy
• Adolescent girls may notice a difference in breast sizes
Does Scoliosis Cause Back pain?
Research on this is not conclusive.
While one study found that 23% of the children with scoliosis had back pain, it's tough to make a direct correlation.
One big research paper looked at many of the studies and couldn't find a direct relationship between scoliosis and back pain.
Some patients report pain, while others are completely pain-free. Also an increase in the Cobb angle doesn't seem to correlate with more pain.
It's important to note that while scoliosis may not directly cause pain, it can increase the chances of back pain and other issues.
4 Scoliosis Treatment Options:
1. Observation and monitoring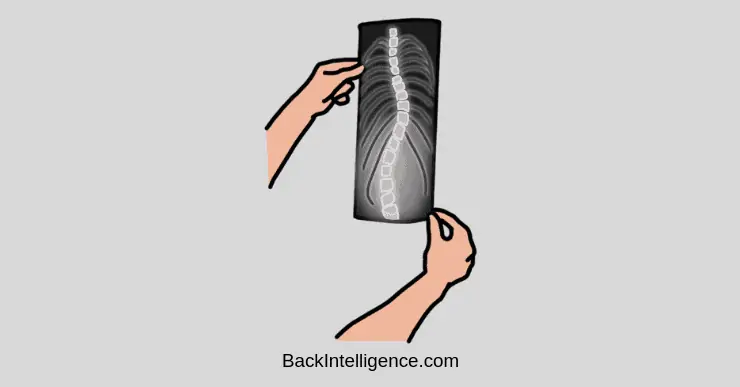 Observation simply means that the doctor monitors the patient's curve every 6-12 months to see if the curve is getting bigger or stays the same. Normally an X-ray is taken to observe.
– Observation is recommended for immature patients with curves of less than 25°.
If the curve gets worse then the patient may be recommended to start Bracing (below).
2. Use of braces (Orthoses)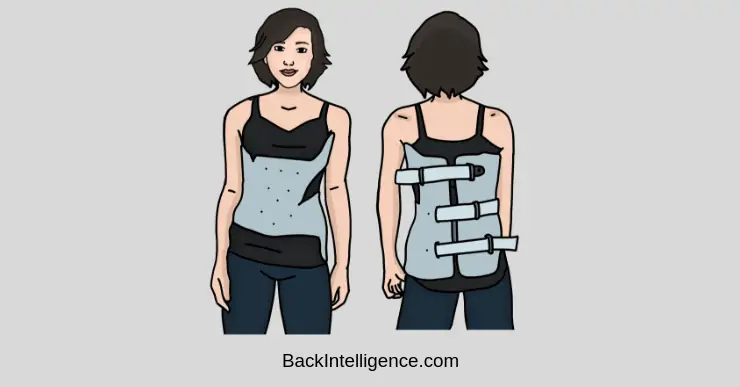 Orthotic (Bracing) management is recommended for patients with progressing curves between 25° and 50°.
While bracing may not improve the Scoliotic curve, it is used to prevent the curve from getting worse.
Nowdays, braces come in a variety of shapes, sizes and padding.
Some popular braces are: Milwaukee brace, Boston brace, Cheneau brace, Rigo Cheneau brace, Cheneau light brace, Triac brace, C-brace, Scoliosis Lycra orthosis, SpineCor orthosis, Charleston brace and more.
3. Physical Therapy & Exercise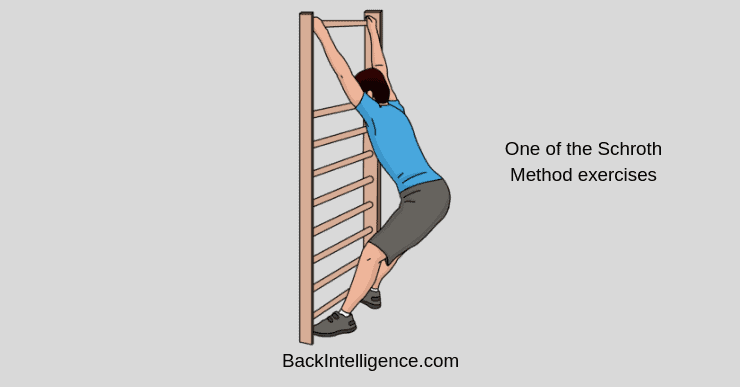 There are many Scoliosis-Specific exercise programs around the world. Each one with it's own methodology and exercises. Here are 3 popular ones:
Method 1: The Lyon approach (France)
The Lyon school of physiotherapy for scoliosis is managed by Dr. Jean Claude de Mauroy.
The Lyon method includes: bracing, patient education, awareness of posture, mobilization, neuromuscular control of the spine, coordination, trunk stabilization, muscular strength, respiration, and ergonomics.
Method 2: The Schroth method (Germany)
The Schroth method was developed by Katharina Schroth in 1920, and is known to treat about 3,000 patients per year. This is one of the most known and used rehab programs.
There is emphasize on active 3D posture correction with corrective exercises, daily posture correction, corrective breathing, Plus mobilization and flexibility in the spine and between ribs to enhance joint mobility.
There is positive evidence suggesting this method is an effective conservative way to treat scoliosis.
One study suggests that the Schroth in-clinic (under supervision) program is superior to the Exercise-at-home program.
Method 3: Scientific exercise approach to scoliosis or SEAS Method (Italy)
Today, Michele Romano and Alessandra Negrini, both physical therapists are the leaders of this school, treating patients and educating around the world.
SEAS method focuses on increasing postural control, improving spinal stability through exercises involving active 3D self-correction. Exercises focus on making neuromuscular connections using balancing techniques, arm reaches, daily activities and more.
There is some evidence that this method can be effective.
—
There are other physical exercise methods that we haven't covered including:
– The Barcelona Scoliosis Physical Therapy School approach (BSPTS) from Spain,
– The Dobomed approach from Poland
– The Side Shift approach from the United Kingdom
– The Functional Individual Therapy of Scoliosis approach (FITS) from Poland.
– And others
4. Surgery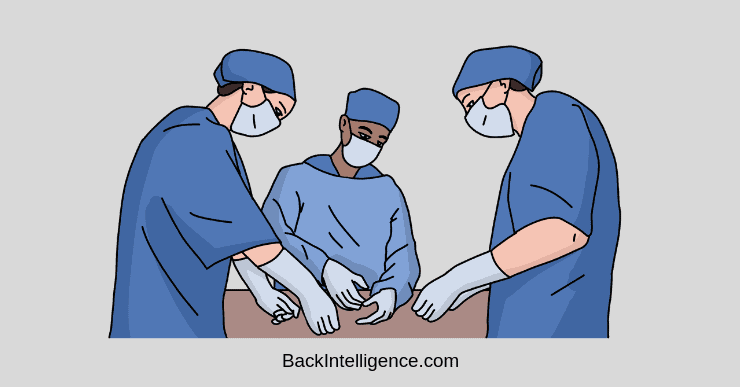 Surgical correction is considered for curves greater than 45° in immature patients and for curves greater than 50° in mature patients.
The goals for surgical treatment are to prevent progression, improve spinal alignment, balance and appearance.
Please note, there is NOT a lot of evidence supporting surgery for scoliosis. The following studies suggest that surgery for scoliosis is poorly understood, and the results aren't necessarily effective: Study 1, Study 2, Study 3.
And another study said that "Although surgery reliably arrests the progression of deformity, achieves permanent correction, and improves appearance, there is no medical necessity for surgery based on the current body of literature."
Sources:
https://www.ncbi.nlm.nih.gov/pmc/articles/PMC5934961/
https://www.ncbi.nlm.nih.gov/pmc/articles/PMC2532872/
https://www.ncbi.nlm.nih.gov/pmc/articles/PMC4897334/
https://www.bmj.com/content/346/bmj.f2508
https://my.clevelandclinic.org/health/diseases/15837-adult-scoliosis
https://www.ncbi.nlm.nih.gov/pmc/articles/PMC4973373/

https://www.ncbi.nlm.nih.gov/pmc/articles/PMC3912852/
https://www.ncbi.nlm.nih.gov/pmc/articles/PMC5165009/
https://www.cochranelibrary.com/cdsr/doi/10.1002/14651858.CD007837.pub2/full
https://www.ncbi.nlm.nih.gov/pmc/articles/PMC5759105/
https://www.ncbi.nlm.nih.gov/pmc/articles/PMC4897334/
https://www.ncbi.nlm.nih.gov/pubmed/21165657/
https://www.ncbi.nlm.nih.gov/pubmed/25831076/
https://www.ncbi.nlm.nih.gov/pubmed/9035437/
https://www.ncbi.nlm.nih.gov/pmc/articles/PMC5016859/
http://citeseerx.ist.psu.edu/viewdoc/download?doi=10.1.1.896.8430&rep=rep1&type=pdf
https://www.ncbi.nlm.nih.gov/pubmed/21173621/

https://www.ncbi.nlm.nih.gov/pubmed/18418338/
https://www.ncbi.nlm.nih.gov/pubmed/17111548/

https://www.ncbi.nlm.nih.gov/pubmed/18432438/
https://www.ncbi.nlm.nih.gov/pmc/articles/PMC3180431/#B30
https://www.ncbi.nlm.nih.gov/pmc/articles/PMC4973373/
https://www.ncbi.nlm.nih.gov/pmc/articles/PMC5198985/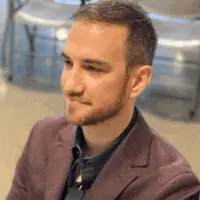 Corrective Exercise Specialist (NASM-CES), Certified Personal Trainer (NASM-CPT), Professional Dancer
As a long time back sufferer Leon found unique methods to alleviate his pain using natural methods including self massage, exercise/stretching and postural habits. He founded Backintelligence.com to empower others to fix their postures and ease their back pain from home.
Co Authors :