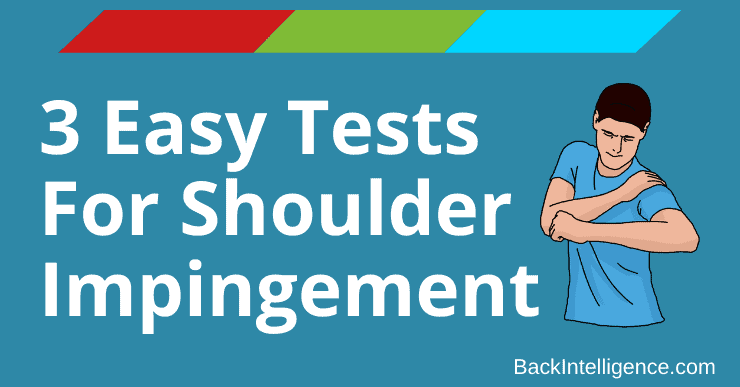 In this video, Dr. Oliver is going to show you 3 self tests for shoulder impingement — that you can do at home. Shoulder impingement can cause pain in the anterior, posterior, or top of your shoulder.
Note: These test will cause some discomfort as you move your arm/shoulder into different positions. If you feel pain while doing any of these tests then you may have a shoulder impingement.

If you find that at least 2 of the following tests are positive, then you can begin correcting your shoulder impingement with exercises. To find out how to fix shoulder impingement with exercises go here.
Shoulder Impingement

Test #1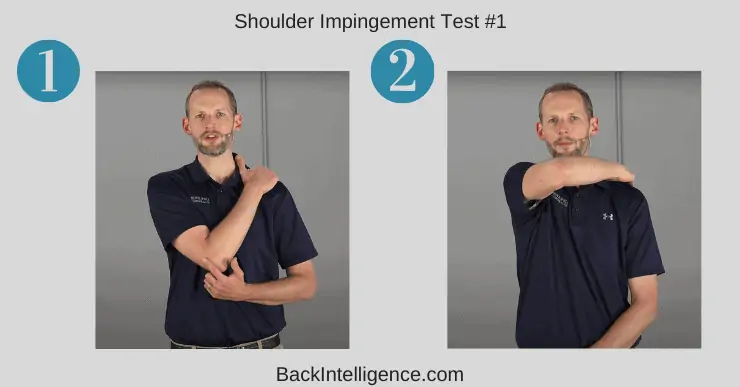 Place one hand on the opposite shoulder
Slowly raise your elbow up toward your face
Try both sides and compare how they feel
If one side hurts more, you probably have some impingement in that shoulder
Shoulder Impingement

Test #2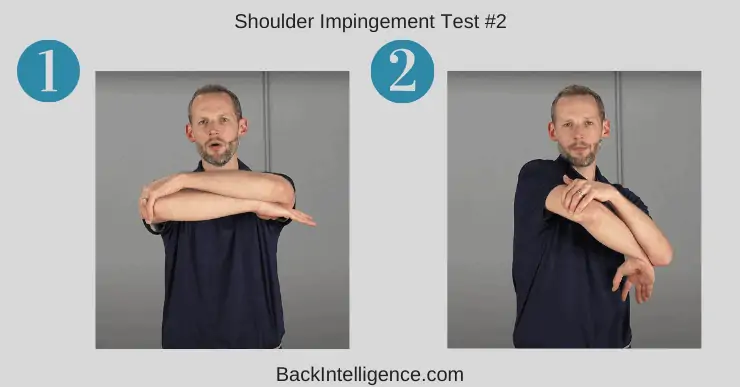 Raise one arm in front of your chest at a 90 degree angle
Place your other arm on top and grab your elbow
Rotate the lower arm down by pressing with your elbow
You'll feel your shoulder rotate as you bring your arms across your chest
If this causes pain you may have shoulder impingement
Shoulder Impingement

Test #3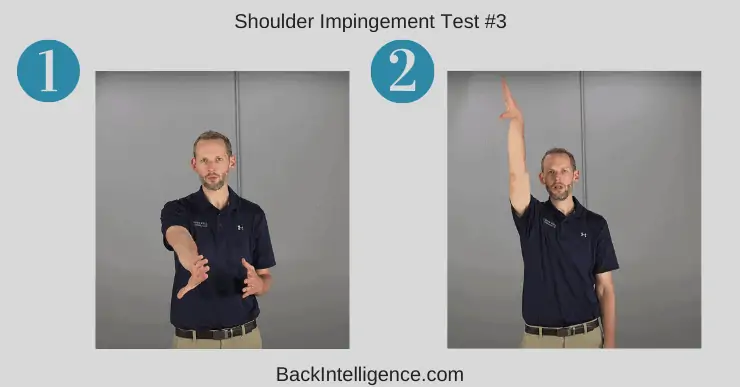 Point your arm out in front of you and rotate your thumb down
Lower your arm to your side
Now raise your arm in front of you towards the ceiling as high as you feel comfortable
Repeat the test but this time point your thumb outward, away from your body
Compare how the two feel. If raising arm with thumb down hurts more, you might have an impingement
All of these test can indicate a shoulder impingement, but generally you'll want more than one to be positive in order to know for sure. If only one test is positive then you may not have an impingement or your condition is very slight.
Recommended Program:
The Complete Posture Fix (With Dr. Oliver)
Fix your Rounded shoulders & Fwd Head posture, get out of pain and increase your mobility.
Learn More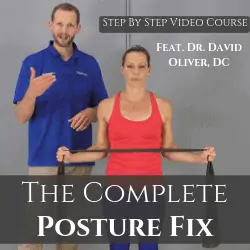 Related:
How To Fix Shoulder Impingement with Exercises
Fix Pain Between Shoulder Blades In Upper Back
Tight Neck? Try The Levator Scapulae Stretch
Rounded shoulders exercises
Easy Sternocleidomastoid Stretch (SCM)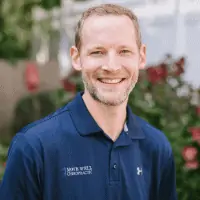 Dr. Oliver has been practicing in Massachusetts since 2007. He is a graduate of Marist College where he received a Pre-Med Bachelor of Science degree in Biology. Dr. Oliver then went on to pursue his chiropractic career by attending Palmer College of Chiropractic West, where he graduated Cum Laude. Dr. Oliver has his diploma in rehabilitation, which allows him to combine rehab and corrective exercise with traditional chiropractic treatment. This gives his patients better long term results.