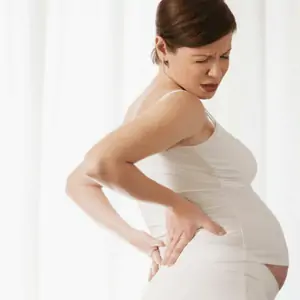 Severe back pain during pregnancy is a common complaint expressed by many women during pregnancy.
Pregnancy in itself has its good days and its bad days filled with mixed emotions and anticipation of your baby's arrival.
It's no secret that it brings all sorts of surprises and changes to your body, but the good news is this means your baby is growing! Unfortunately, it also accompanies a host of daily discomforts.
Of course, side-effects such as back pain, especially severe back pain, can be hard for any woman to endure for a whole 9 months.
But don't worry as there are a few ways to keep pain at bay.
---
What Causes Severe Back Pain during Pregnancy? 5 Causes
---
Hormone Changes
During pregnancy, your body produces a hormone called relaxin. This hormone is a very important hormone in pregnancy because it allows the ligaments in the joints of the pelvic area to relax and prepares your body for the whole birthing process.
The downside is that this same hormone can also cause the ligaments which support the spine to loosen and create instability, causing you severe back pain.
Weight Gain
Weight gain is a given in pregnancy. Women typically gain about 25 – 35 pounds, which is completely normal in a healthy pregnancy.
The side-effect of weight gain is that the spine has to make some serious adjustments in order to support the weight of your growing baby.
The baby and uterus also put added pressure on the nerves and blood vessels around the back and pelvis area, which can cause severe back pain.
Center of Gravity Changes
Your body is starting to gain weight which causes a change in your center of gravity.
As your baby grows, your center of gravity will start shifting forward (because of the growing baby). This puts a lot of strain on your back as you try to overcompensate your muscles to stay balanced.
Stress
So many things change in your body during pregnancy which can lead to emotional stress. It's been proven that our emotions can affect us physically too.
This can cause unnecessary tension in the back to where you may experience muscle spasms and back pain.
Muscle Separation AKA Diastasis Recti
As your uterus expands so does your rectal abdominal muscles.
These are two muscles which run from the rib cage to the pubic bone and has been known to cause severe back pain. If you are not careful about how you "pick things up", how you "get out of bed" and do everyday things you will strain yourself even more.
Personal Experience about
As a mom of 3, I have first-hand experience with severe back pain!
My babies weighed in a whopping 10 -11 pounds each.
Those who know me can vouch that my thin frame together with my massive belly looked like an alien invasion!
To say that I was mildly affected by my protruding belly, on a day-to-day basis, would have been an understatement.
Trying to cope with balance, pressure, and side effects from my giant belly put me in a few tears.
I experienced a lot of back pain from the beginning stages of pregnancy, to where I was often very uncomfortable seeking out any and all remedies to put my pain at ease!
The good news is that by the third pregnancy I got really clever and made sure to protect my back through helpful remedies.
---
10 remedies for Severe Back Pain during Pregnancy
---
There is no need to suffer unnecessarily during pregnancy.
Learning to manage pain and comfort during those 9 months can make it a more enjoyable process.
It may not take it away completely, but it will help to ease the pain or at the very least keep it to a minimum.
Below are a few helpful practices.
1. The right shoes
Pregnancy is the time to take a break from those high heels.
Of course, it's perfectly okay to occasionally use a pair of heels on a night out – or during the beginning stages of pregnancy when your body hasn't gained too much weight just yet.
One of the main reasons you want to stay away from high heels is the fact that they cause a further shift in your center of gravity. This can cause unnecessary severe back pain, and may even cause you to fall.
Wearing the right shoes can make a huge difference in the comfort of your entire body. Eliminating unnecessary back pain, offering you safe passage. Try to find a pair of comfortable low-heel shoes, with a good arch for support.
2. Sleep Support
Sleeping with a pillow between your legs can feel like heaven after a long day. It takes pressure off the back, and in between the hips.
You may find this as comfortable as I did and continue to sleep with a pillow well after pregnancy.
3. Gentle Stretches
Practicing gentle back stretches on a regular basis can strengthen your back, as well as ease back pains during pregnancy.
A few simple stretches would include; standing pelvic tilt, backward stretch with a fitness ball, torso rotations, and low back stretches.
There are a few other areas in your body which could also be contributing to back pain. They are the muscles in the back of the thighs (hamstrings), as well as the chest and neck muscles.
4. Get a Massage
It's important to know that you have to be very careful when getting a back massage during pregnancy. Always consult with your doctor first.
With that said, a gentle massage in the right places can not only be relaxing for mommy and baby, but it can also be beneficial for getting rid of knots in the neck and back.
5. Physical Activity
Staying fit during your pregnancy is going to be your secret key for various reasons. It will help keep off excess weight gain, allowing you to get back into shape post pregnancy with ease.
Physical activity also prepares your body for the big day – just as you would when training for a marathon!
It is hard at times to try and find the energy or will power to exercise when pregnant. Or even to find the right exercise regime in the first place.
Once you make exercise a daily habit you'll realize just how good it makes you feel, and you'll begin to look forward to it.
6. Prenatal Yoga
Prenatal yoga is one of the best forms of exercise you can do during your pregnancy. It is relaxing, motivating, and trains you to keep calm when you're in the throes of labor.
Yoga is equally beneficial in controlling back pain as it strengthens the muscles, lubricates the joints, and keeps your body flexible.
As with anything in pregnancy, always make sure you consult your doctor first and make sure your instructor is well qualified for prenatal yoga.
7. Use heating pads
Heat therapy has been known to alleviate back pain. Heat penetrates the muscles and relaxes them. The best thing is just to apply heat when you go to sleep every night (at least 15 minutes).
You can use a microwavable heating pad or a en electric one.
8. Strengthen Your Booty
Your gluteus maximus should be the strongest biggest muscle of your skeletal system. If it's not strong enough it won't be able to support all the extra weight.
Severe back pain may occur as your lower back works overtime trying to compensate the added pressure.
9. Practice Proper Posture
As you begin to gain weight, your center of gravity shifts, pushing you to stand forward a bit. Because of this, you may be compensating by leaning backward. Practicing a few good principals of posture can really help.
When standing, always try to stand up tall. Hold your chest high, and keep your shoulders back and relaxed. Then try to engage your "core" – This will be hard with a belly, but still don't let your lower back concave too much.
Try not to lock the knees. If you have to stand, give yourself a few breaks in between, or alternatively find a step to rest one of your feet on.
10. Sleep On Your Side
Sleeping can be a tedious task in pregnancy as you are limited in positions to sleep in.
You may be able to sleep on your back during the first weeks of pregnancy, but any more than that is not advisable or safe. Especially when it comes to protecting your back.
Sleeping on your side is the best position to sleep in, both for you and your baby. It not only takes pressure off your back but also off your vital organs. Allowing blood flow and nutrients to flow easily between you and your baby.
Want more? Check out How to sleep with lower back pain
Written by Lara Brown-Notman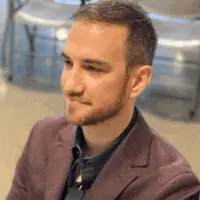 Corrective Exercise Specialist (NASM-CES), Certified Personal Trainer (NASM-CPT), Professional Dancer
As a long time back sufferer Leon found unique methods to alleviate his pain using natural methods including self massage, exercise/stretching and postural habits. He founded Backintelligence.com to empower others to fix their postures and ease their back pain from home.