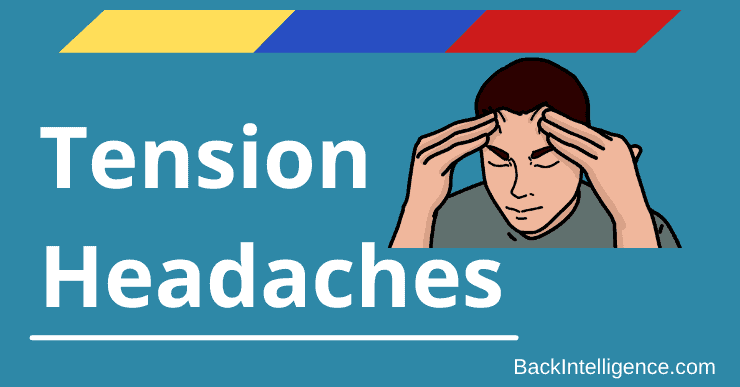 There are many types of headaches, but Tension Headaches are the most common[1] accounting for 78% of all headaches.[2][3][7] Typically, Tension-Type Headaches peak around 30-39 years old.[2]

What are Tension Headaches?
There are different types of tension headaches ranging from episodic to chronic. Infrequent-episodic headaches may occur 1 day per month or less. Frequent-episodic headaches may occur 1-15 days per month. However, If you have a headache lasting for more than 15 days per month, you would fall under the chronic category.[5]
Both episodic and chronic headaches can have an effect on a person's quality of life and may affect work attendance, social relationships and every day activities.[3] Tension headaches often begin during the day and may build in intensity, but the headache remains unchanged regardless of increased activity.[2][5] The intensity of the pain not changing with physical activity is a big distinguishing difference between tension type headaches and migraines.[2]
Causes of Tension Headaches?
The exact cause of tension type headaches is unknown.[2]
There are various known aggravating factors that may trigger a tension type headache such as:
Tension type headaches are often a diagnosis of omission meaning other diagnoses must be ruled out first, such as: Migraines, overuse of medication, cervicogenic headaches and other forms of headaches.[2]
How can I tell if I have Tension Headaches?
In order to diagnose tension type headache, other diagnoses or another condition causing the headache must be ruled out, and a clinical exam must be performed.[2] During a physical exam the clinician will identify tender points (knots) in the muscles under and around the skull. When pressure is put through these knots it can cause pain in another location – which can be associated with tension headaches.[2] There are no formal laboratory tests to diagnose tension type headaches.[2]
Tension Headache Symptoms:
Symptom Not Present:
If nausea and vomiting are present it can help rule out a diagnosis of tension type headache.[2] The presence of both photophobia and phonophobia can also help rule out the diagnosis of tension type headache (Presence of only one is perfectly normal).[2]
Below are various techniques and exercises that may help reduce headache symptoms and intensity. While these exercises may help it is also important to make sure you are:
– Eating/Sleeping enough.
– Participating in regular physical activity to help manage stress.
– Have a good support system in place (Stress and emotions can play a large part in tension-type headaches and how you perceive pain in general).[8]
Exercises for Tension Headaches:
#1 – Posture Correction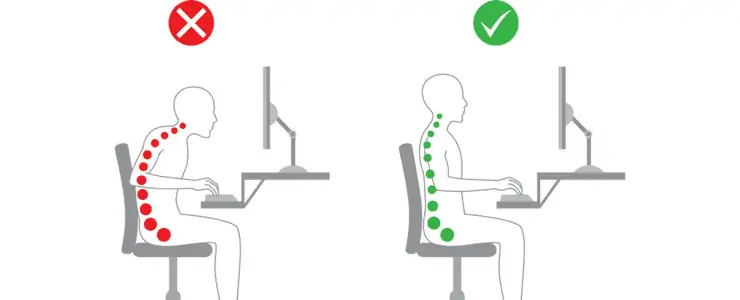 Correcting posture and ergonomics should be completed first before beginning other activities because bad posture could make exercises less affective.[6]
Posture correction will also take pressure off some of your muscles which will reduce headaches.
While sitting in a chair your pelvis should be tilted forward to create a curve in your low back (Neutral spine position).
Your shoulders should be drawn back rather than rolled forward
The goal is to get your ears in line with your shoulders rather than having your head jut forward.
Your hips, knees and ankles should all be at a 90 degree angle while resting with feet flat on the floor.
If you cannot sit in a chair with your feet flat on the floor you can use a box or stool under your feet.
#2 – Progressive Muscle Relaxation[2]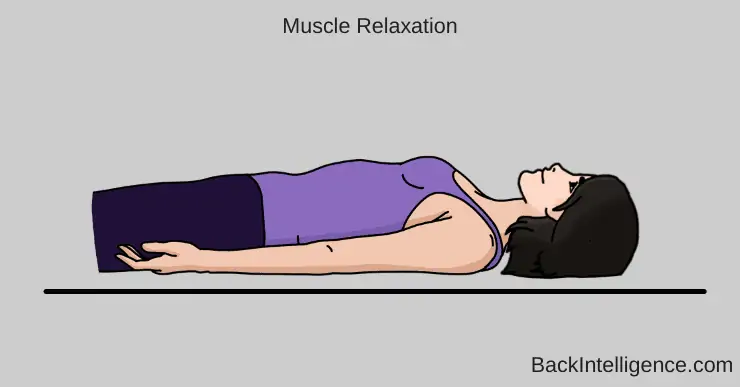 Begin lying (or sitting) on your back in a comfortable position with your eyes closed.
Take a deep breath in through your nose and let it out through your mouth.
Begin at one end of your body (ex. toes)
Scrunch toes for 5 seconds then relax and let your muscles feel heavy and melt into the surface you're lying on.
Move up to your knees, then hips, then abs, then arms, then neck completing the same process of squeezing muscles for 5 seconds then relaxing and letting your muscles get heavy.
Once you have gone through the whole cycle of relaxation notice the difference in your body and the absence of tension. Notice your posture and how your head feels.
When you're ready open your eyes and slowly begin moving your muscles to get up into standing
#3 – Suboccipital Release with Tennis Balls[3][6]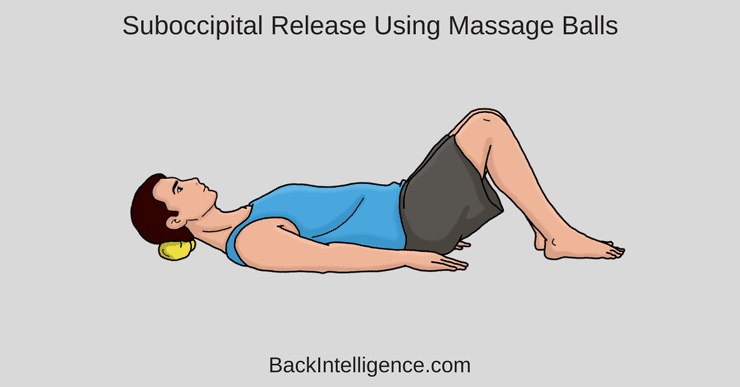 Tape two tennis balls together or place them in a sock and tie a knot at the end.
Lay on your back on a firm surface. Place tennis balls at the bottom of your skull as indicated by picture.
Slowly roll your head side to side to find tight knots. When you feel a muscle knot (tender area) hold that position for 10-15 seconds until you feel the knot loosen.
You can work on the muscles for up to 5 minutes, which will help release muscle tension in your suboccipital muscles to reduce headaches.
#4 – Chin Tuck[7]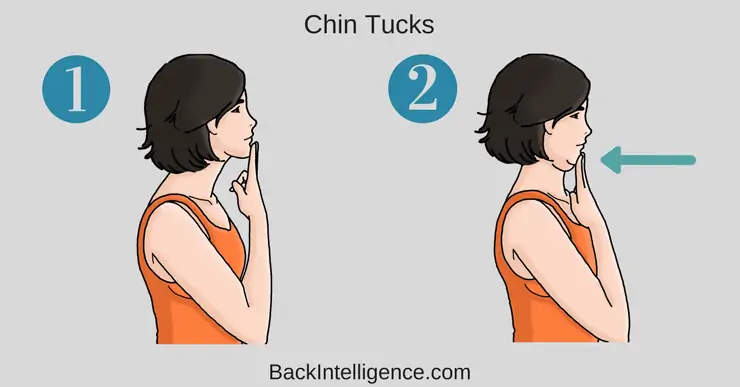 This exercise will activate and strengthen your deep cervical muscles (front of the neck muscles).
Place 2 fingers at the bottom of your chin.
Gently tuck your chin in and retract your head backwards. At the same time, use your fingers to keep the chin tucked in the entire time.
Hold the end position for 3 to 5 seconds.
Relax your neck for a moment (Let the neck come fwd).
Aim for 2 to 3 sets of 10 repetitions.
** You should feel like the back of your neck is lengthening or "pulling up", and there will be packing in front of your neck.
Check out Chin Tuck exercise video
#5 – Upper Trapezius stretch[7]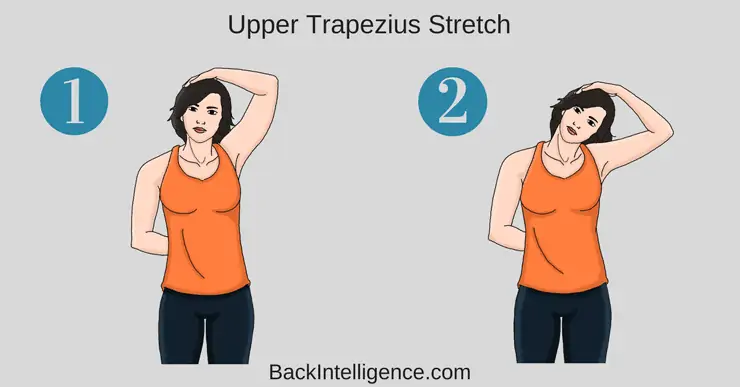 This will stretch out the neck and upper back muscles (Scalene & Upper Trapezius) which can get very tight on individuals with this forward neck syndrome.
Start either in a standing or seated position.
Place one of your hands on the opposite side of your head and tuck the other hand behind your back.
Now bring the head down towards your shoulder.
Use the hand on top to press your head down – to get a deeper stretch (Not too hard).
Hold for 20-30 seconds and do both sides
#6 – SCM Stretch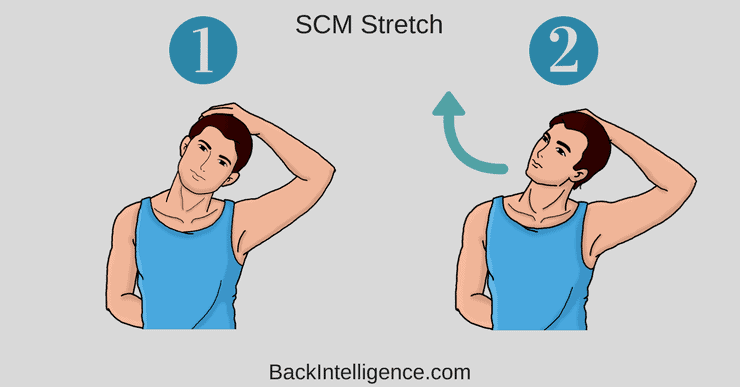 Begin in a standing position with your neck retracted.
Tilt your head to the right and rotate your chin upwards to the left until you feel a slight stretch on the left side of your neck.
Hold this position for 15 to 20 seconds.
Repeat on the other side.
Aim for 3 repetitions of this stretch.
Check out SCM stretch video
BONUS: Use of a headache diary[2]
It can be helpful to keep a headache diary to record the frequency/severity of headaches, triggers and relieving activities. This can help reduce headaches by eliminating triggers from everyday life if possible. This can also be used to help prevent overuse of medication for treatment.
Related:
How Can Poor Posture Result in Back Pain – 7 Causes
How To Fix Forward Head Posture – 5 Exercises
Proper Sitting Posture At A Desk – 10 Tips
How To Get Rid of Neck Pain (9 Best Neck Stretches & Releases)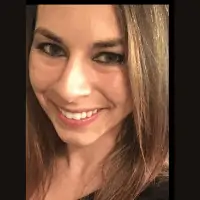 Doctor of Physical Therapy and currently works full time as a pediatric physical therapist. Rachel has worked in Sports, Inpatient Rehab and Outpatient Ortho settings under the guidance of incredible mentors focusing on low back pain. Rachel believes in holistic and patient centered care and enjoys developing their course of treatment.