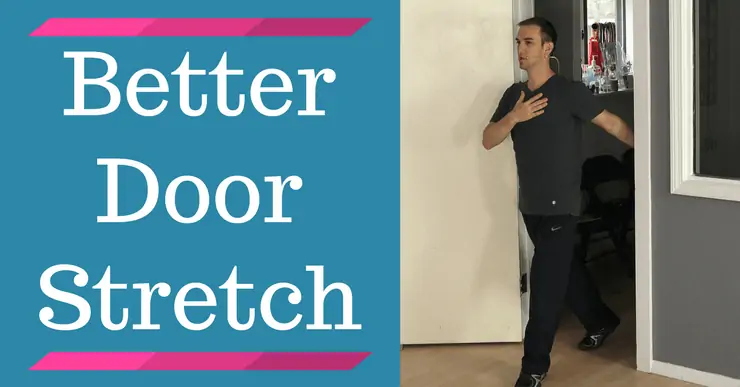 Today's video will show you an alternative to the classic door frame stretch. I found this particular way of stretching to be the most effective to stretch chest muscles – Pec Major & Minor.. This stretch is useful for those of you sitting hunched up all day in front of a computer. Watch the video below:

Best Stretch For Chest Muscles:
Any questions? Leave a comment below
How To Stretch Your Chest Muscles - 8 Steps
1. Position both arms on the other side of the door frame – roughly at hip/waist level.
2. Now step forward through the door frame with one leg and look straight ahead.
3. Let your arms straighten (as long as it's not painful) and push off the back foot forward to increase the intensity of the stretch.
4. Squeeze your shoulder blades and feel your chest opening up.
5. Hold this stretch for 20-30 seconds and you can do 3 sets.
6. Avoid: Arching your low back (keep abs engaged)
7. Avoid: Elevating your shoulders
8. Avoid: Sticking out your head forward. Maintain a good posture through out.

Related:
5 Exercises for rounded shoulders
How to fix text neck and forward head posture
How to do the Cobra Pose (Low back pain stretch)
Back To Home
Visit our youtube channel: BackIntelligence youtube channel
[Transcript]
Leon here, back for another video and today, I wanted to talk to you about a better way to stretch your chest muscles. OK? So if you're having a forward head posture, a rounded shoulder kind of posture, one of the exercises, one of the stretches that you need to do is to stretch out your chest muscles. Specifically, you have your pectoralis major muscle as well as your pectoralis minor, which is underneath it. It's really hard to get at that smaller muscle.
But either way, you need to stretch these muscles out in order for you to fix your posture and bring your shoulders back because a lot of people get really tight chest muscles from sitting down in a hunched position all day.
So typically one of the stretches that's being given out there is the doorframe stretch, which is this one here. You're going to place your arm at a 90-degree angle. You can even step through and kind of try to hold that.
But in my opinion, this stretch is not that great and I don't feel much of a stretch. So I'm going to give you an alternative right now, another way to do it, and here's what I'm going to suggest to you. Try this at home. What you want to do is place your arm lower on the door frame, kind of like at your waist level or hip level. OK? And then you're going to step out quite a bit in front and then you're going to stretch up, keep your shoulders down, and I can feel it a lot more here. You can even extend your arms fully, so that they're straight.
For me, this works a lot better than your typical 90-degree doorframe stretch like this. Yes? So again, place your arm like just underneath, kind of like waist-hip level and then you want to look straight ahead and then you want to push forward slightly.
Now, I'm also extending forward quite a bit here. So you don't want to just stay in one spot and kind of hang out here. You're not going to feel anything. OK? I'm using the back of my foot to really push myself, right? Coming from my calf muscle, my right leg now, to push myself forward and then I'm really getting a nice extension here on both side.
For me, this is a better stretch, a better doorframe stretch than your normal one that usually people recommend and this gets a lot more of a stretch in the chest muscles.
Now you want to make sure to check, to see that your shoulders are not creeping up like this. OK? So this would be wrong. OK? If you're doing it like that, it's not going to be effective.
You want to keep your abs pulled in a little bit. So if you're bringing your stomach out like this, again, not going to be effective, so pull in your ab muscles a little bit. Bring your shoulders down. Stretch your spine up. Look straight and then extend full – and then push from your back leg forward to get even a deeper stretch.
Then you want to hold it for 30 seconds and do 3 set. OK? You can even switch legs because you are pushing from that back leg to move forward. So maybe if one of your legs get tired, you can switch legs and now again, you're just pushing forward. Thirty seconds and I find that this is a better way to target your chest muscles, to stretch them out.
So try it out for yourself and let me know if you feel like the stretch more than the regular doorframe stretch. I would love to hear from you. You can leave a comment below and let me know. Obviously there are many different stretches out there and techniques. So what works for one person may not work for another. But I would love to hear if this alternative stretch to the doorframe helped you.
[End of transcript]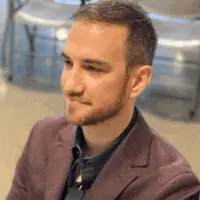 Corrective Exercise Specialist (NASM-CES), Certified Personal Trainer (NASM-CPT), Professional Dancer
As a long time back sufferer Leon found unique methods to alleviate his pain using natural methods including self massage, exercise/stretching and postural habits. He founded Backintelligence.com to empower others to fix their postures and ease their back pain from home.