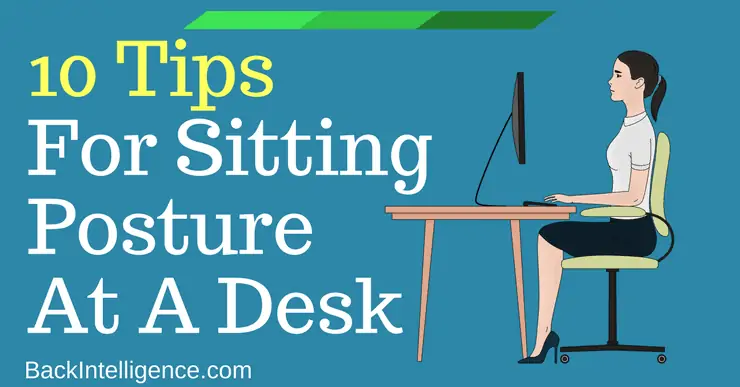 In the modern workplace, many workers spend more than 50% of their workday in a seated position. This is why learning the proper sitting posture is so important.
Our bodies were built to move and yet we are spending an increasing amount of time in sedentary environments that minimize our physical activity levels, and also require us to sit for prolonged periods of time.
Sitting with poor posture can lead to:
– Neck and back pain
– Forward head posture
– Rounded shoulders
– Hyperkyphosis
– Anterior pelvic tilt
– Bulging discs
– Muscle stiffness
– Decreased mobility
– Poor balance
– Decreased athletic performance
According to the Cleveland Clinic, good posture involves positioning your body to walk, stand, sit, or lie in a position that places the least amount of strain on the supporting muscles and ligaments of your body.
Benefits of proper posture include:
– Keeps bones and joints in proper alignment to encourage efficient use of muscles.
– Helps reduce abnormal wear and tear on joint surfaces.
– Decreases the stress on the spinal ligaments.
– Prevents abnormal spinal positions.
– Prevents muscle fatigue.
– Prevents injury including strains, sprains, and overuse injuries.
– Contributes to a good appearance.
– Improves self-esteem.
Related article: 10 Posture exercises
10 Tips For Proper Sitting Posture At A Computer Desk
1. Keep your pelvis neutral with your buttocks against the back of your chair.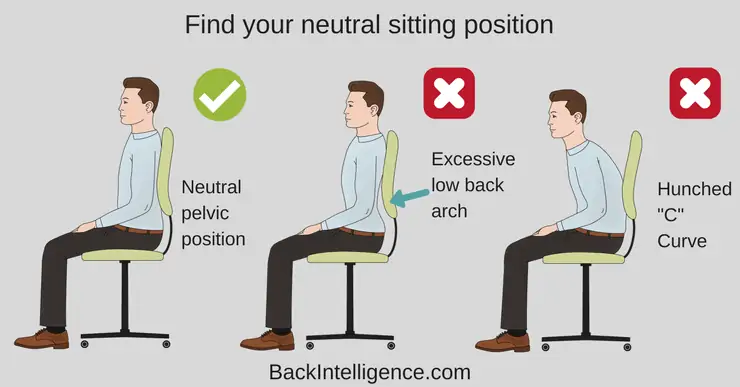 Proper sitting posture at a desk begins at your pelvis. You want to sit with your pelvis in a neutral position, with your buttocks against the back of the chair.
You might be wondering… how do I sit with a neutral pelvis? The first step to finding a neutral pelvis is begins with finding your sitz bones. These bones are the most prominent bones that you'll feel in your buttocks when you place your hands underneath your buttocks.
Once you find these bones, round your lower back into a slouched position and tuck your pelvis under – the sitz bones will start to feel flat under your hands. Now, tilt your pelvis forward by arching your lower back. Your sitz bones will leave your hands and all of your weight will move to the back of your thighs.
A neutral pelvis is midway between the slouched and tilted forward positions. In a neutral pelvis posture, your sitz bones will feel pointy.
Sitting with your pelvis in a neutral position, with your buttocks positioned against the back of your chair, will help to prevent your pelvis from tilting forwards (anterior pelvis tilt), or backwards (posterior pelvic tilt).
2. Keep your ears, shoulders, and hips aligned.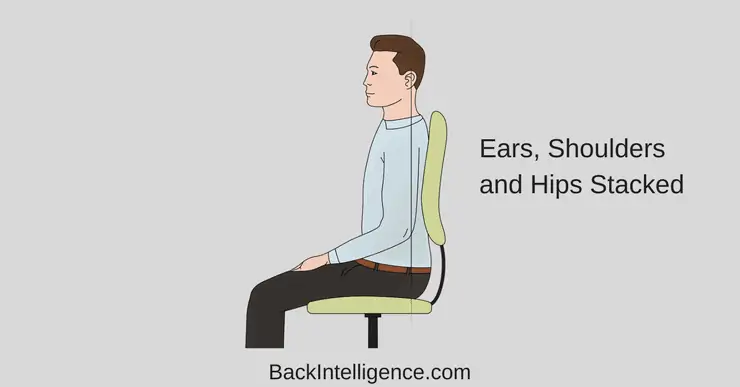 The natural curves of your spine are maintained by keeping your ears, shoulders, and hips aligned. Any deviation from this position will cause shifting of the natural curves of your spine, which places excess stress on the spine resulting in pain, and also increases your risk of injury.
3. Maintain the normal low back curve (Use a back support)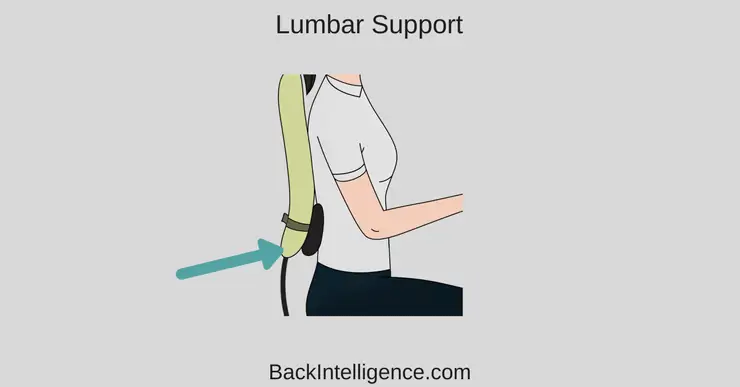 Your back should should have a small curve in the lower back, which is where your lordortic curve is. Without support, your back tends to curve in the opposite direction, which is known as kyphosis (hunchback), which leaves your lower back vulnerable to injuries including sprains and strains, and disc herniation. A rolled up towel, or a small pillow, is a simple solution that can be used to provide support to the lower back.
4. Keep your hips and knees at 90 degrees.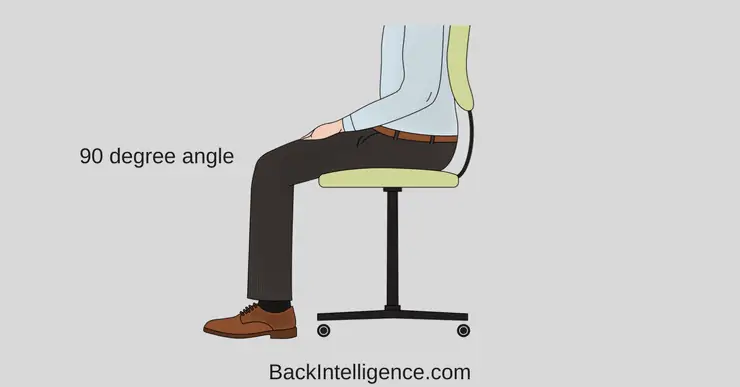 When sitting at your desk, try to keep your knees almost aligned with your hips. This position helps to keep a neutral spine position. Sitting in a chair that's too low positions your knees above your hips, while sitting perched higher up positions your hips significantly higher than your knees. Both of these positions place excessive stress on your back and can lead to back pain and stiffness.
5. Evenly distribute your weight over both hips (avoid leaning to one side).
It can be tempting to lean to the side when you're sitting at your desk, but this bad habit causes your spine to curve, which can lead to issues such as sprains and strains, scoliosis, and disc herniation. Ensure that your weight is evenly distributed over both hips when in a seated position.
Recommended Program:
The Complete Posture Fix (With Dr. Oliver)
Fix your Rounded shoulders & Fwd Head posture, get out of pain and increase your mobility.
Learn More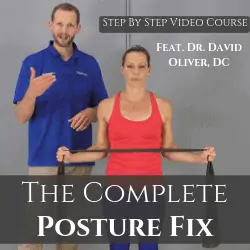 6. Keep both feet flat on the ground (use foot stool if necessary).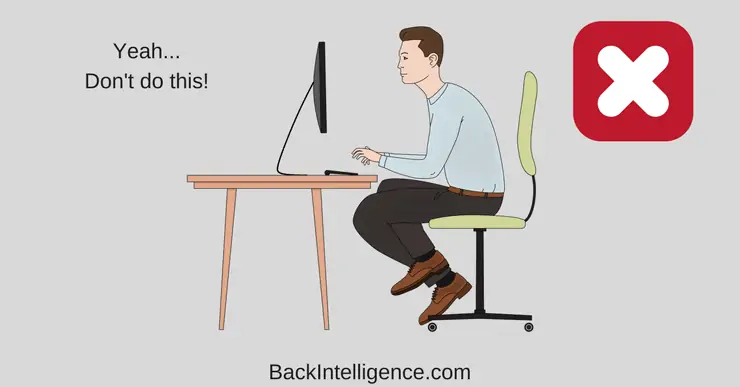 When you cross your legs, or if just your toes are touching the floor, you put stress on the large supportive muscles of your back, pelvis and hip and you also interfere with proper blood flow. Another issue with a crossed-leg position is that it puts added pressure on your lower back and forces you to lean slightly to one side, causing and imbalanced pelvis.
7. Keep your forearms parallel with the floor, resting on your desk.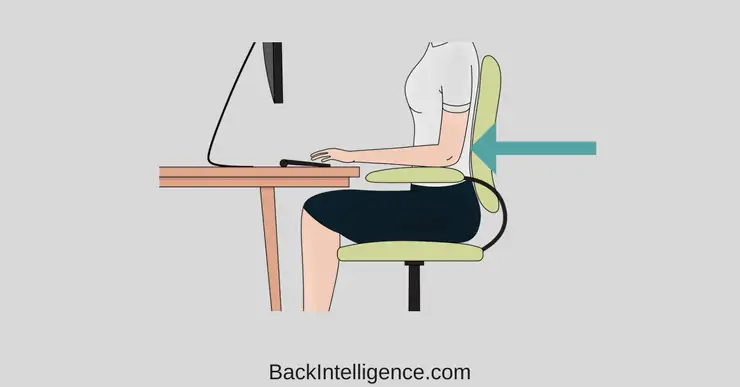 Keeping your forearms parallel with the floor, resting on your desk helps to reduce the amount of stress on the joints of your upper extremities. Ensure that you place your keyboard and mouse at appropriate distances from your body so that you don't have to continually reach forwards to use them. If you have to stretch your arms to reach you keyboard and/or mouse, your shoulders will start to rotate forward which can lead to rounded shoulders posture as well as upper back pain.
8. Place your computer monitor 18-24 inches from your face with the top 1/3 of monitor at eye level.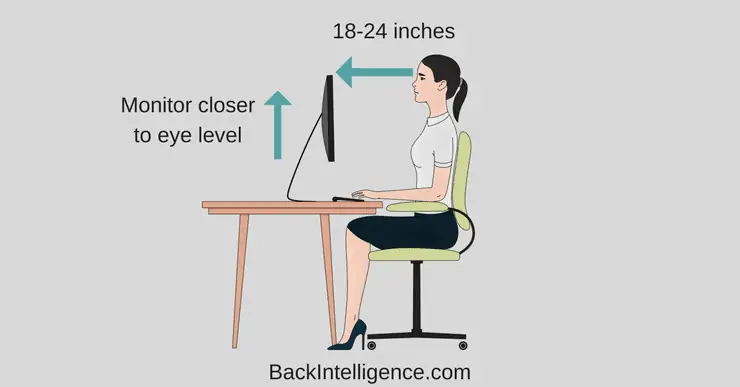 If your computer monitor is positioned incorrectly, you'll be placing excess strain on your neck because you'll have to be constantly looking up or down. This puts you at risk for injuries such as neck strains and sprains, cervical disc herniation, and headaches.
Related: How high should my monitor be?
9. Regularly check that your head is not protruding forward.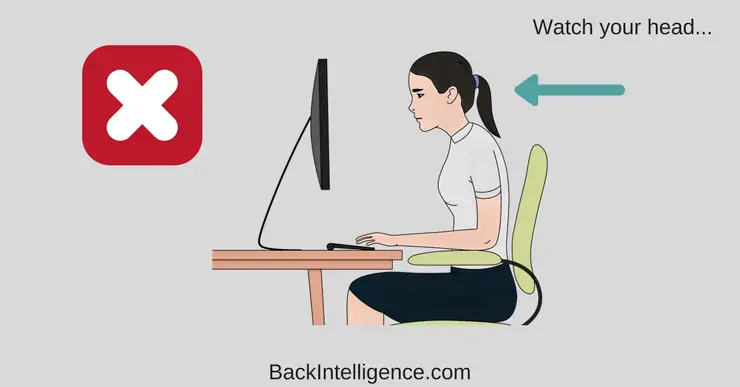 You'll really want to be aware of this bad habit and make a conscious effort to avoid it. Research has found that for every inch your head moves forward, there's an extra 10 pounds of weight placed on your neck! Protruding your head forward when seated can lead to forward head posture, which can results in an array of health issues including neck and back pain, muscle spasms, arthritis of the neck, restricted breathing, headaches and migraine, insomnia, sleep apnea, chronic fatigue, numbness and tingling in your arms and hands, and temporal mandibular joint (TMJ) pain.
10. Take periodic breaks & Stretch out.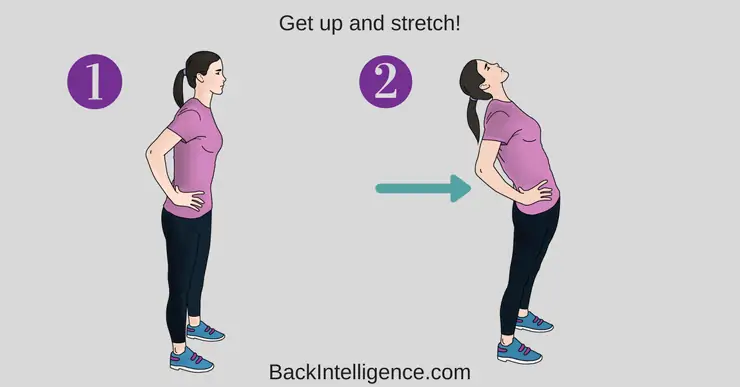 Try to take a short break from sitting at least once every hour to move around your office. This can help to relieve pain and prevent muscle tightness. During your breaks, you can try doing simple stretches to relieve muscle tightness and improve blood flow. Simple exercises that can be done in your office include:
– Neck range of motion (flexion, lateral flexion, and rotation)
– Shoulder shrugs
– Calf raises
– Ankle pumps
– Lunges
– Doorway stretch
Try these tips daily!
Also, Check out this video for 7 sitting tips:
In Conclusion
If you're like many people, you spent countless hours seated at your desk and you may be suffering with aches and pains due to poor posture. Bad sitting habits, such as slouching or crossing your legs, can have a detrimental impact on the health of your spine. Fortunately, these bad habits can be corrected by following the tips outlines above. Simple changes to your workspace and your sitting posture can go a long way to improving the health of your spine.
Sources:
https://www.ncbi.nlm.nih.gov/pmc/articles/PMC3985273/
https://www.ncbi.nlm.nih.gov/pmc/articles/PMC5851379/
https://my.clevelandclinic.org/health/articles/4485-back-health–posture
https://www.omicsonline.org/open-access/improvement-of-the-sitting-position-of-the-computer-operator-using-thetoes-2165-7556-1000149.php?aid=67522
https://academic.oup.com/ptj/article/89/4/351/2737577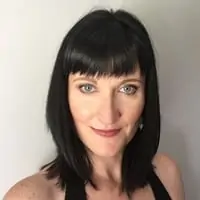 Licensed chiropractor, DC (Owner of Forme Clinic, Stoney Creek, ON, L8G 1B9)
Dr. Shaina McQuilkie graduated from Brock University in 2004 with a Bachelor of Kinesiology (Honours). She then attended D'Youville College, in Buffalo, New York and obtained her Doctorate of Chiropractic Degree in 2008. After graduating, Dr. McQuilkie practiced in a multi-disciplinary healthcare facility based in Hamilton, Ontario gaining experience treating a variety of musculoskeletal injuries.