Sciatica is low back pain that normally radiates into the butt, back of the hip, and down the back of the leg to the foot.
Most times sciatica affects only one side of the body, but it can affect both legs, depending on the cause.
The good news is that doing simple sciatica exercises can help relieve your pain. [Read more…] about 5 Sciatica Exercises For Pain Relief (With Pictures)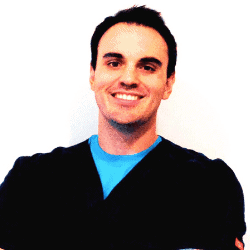 Dr. Smith earned his Doctorate In Physical Therapy from the University of Miami's Miller School of Medicine and currently practices as a home care therapist in the Tampa Bay area. He uses his eclectic background of working with everyone from those in the ICU to elite athletes to customize care for each one of his patients and progress them toward their personal goals.
Prior to being a Physical Therapist, he earned a masters degree in public health and managed big pharma clinical trials worldwide. He enjoys CrossFit, Animals, and helping people live a pain free and active lifestyle