Latissimus Dorsi or commonly referred to as "Lats" is the biggest muscle of the back and it starts roughly from the pelvis area and runs on both sides of the back, all the way up, and finally attaches into both arm bones (humerus).
This muscle gets very tight and cause pain in the upper back in and around the shoulder blades. In this video I cover ways you can release and stretch this muscle:
Latissimus Dorsi Stretches & Releases:
Related:
Fix Upper back pain between shoulder blades
How to fix anterior pelvic tilt
Best Hip Flexor Stretches
Exercises for forward head position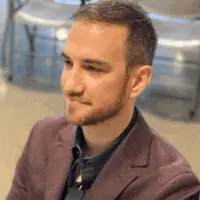 Corrective Exercise Specialist (NASM-CES), Certified Personal Trainer (NASM-CPT), Professional Dancer
As a long time back sufferer Leon found unique methods to alleviate his pain using natural methods including self massage, exercise/stretching and postural habits. He founded Backintelligence.com to empower others to fix their postures and ease their back pain from home.