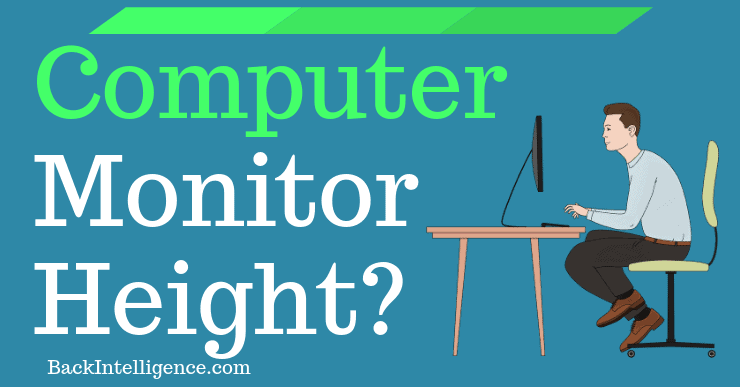 As you may already know maintaining good posture at your desk is a huge factor in improving your spine's health.
An improper monitor position can trigger back, neck and shoulder pain, as well as contribute to poor posture.
And since we all come in different heights and sizes, you might be wondering how high should my computer monitor be?
Well, there is one easy way to determine the correct ergonomic monitor height for you specifically.
Here it is:
Have your forehead aligned with the top 1/3 of your monitor
Easy right? Here are 2 images showing the correct and incorrect monitor heights:
The correct monitor height: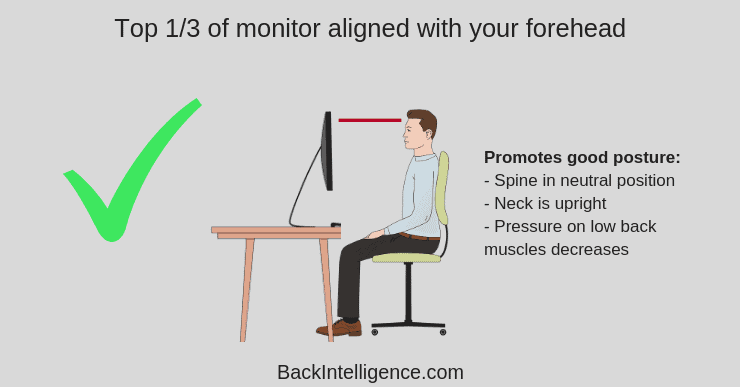 The above monitor position shows the correct monitor height where the person's forehead is aligned with the top 1/3 of the monitor. This height helps you to not look down at your screen. Also, it helps you to keep your spine aligned in a neutral position, which puts the least amount of stress on your low back. Lastly, it ensures that your head stays stacked on top of your shoulders and avoids the neck coming forward/down – Which can really put a lot of stress on the neck and shoulder muscles.
The incorrect monitor height: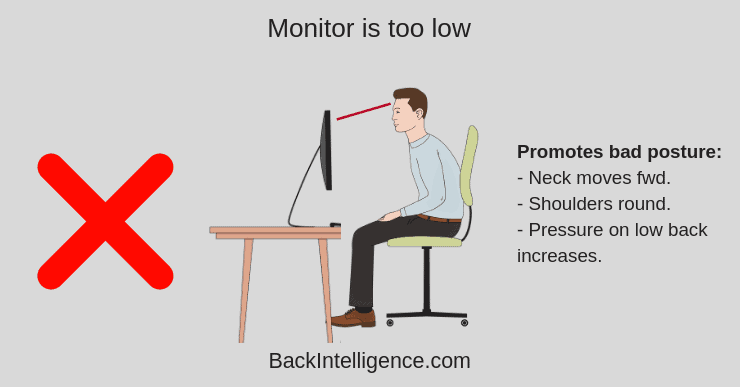 The above monitor is not aligned with the person's forehead and therefore promotes poor posture, forcing the person to hunch down to look at his/her computer. This puts a lot of strain on the neck, shoulders and low back.
How Can I Elevate My Laptop?
For laptops you can get a laptop stand, but you also use books or magazines to elevate your laptop's monitor to your forehead height. Check this out: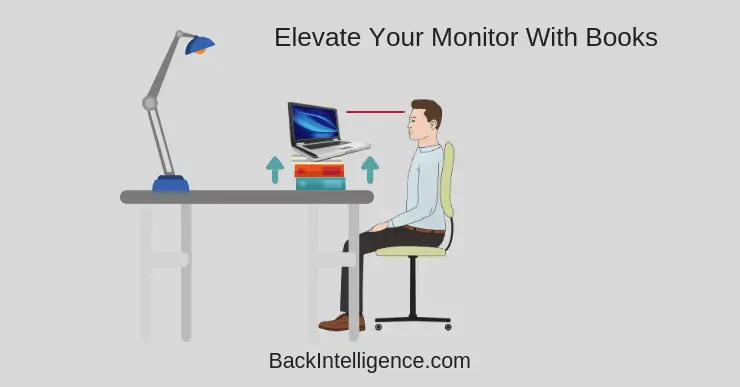 Recommended Program:
The Complete Posture Fix (With Dr. Oliver)
– Fix your fwd head and rounded shoulders posture, ergonomics, get out of pain and increase your mobility.
Learn More
Video on how to raise a Laptop:
Other Tips
– Use lumbar cushion support to make sure your low back is supported.
– Keep both feet on the floor (at roughly 90 degree angle).
– Watch your head position – Make sure it's not protruding forward.
– Take breaks from sitting every 30-40 minutes to give your muscles a break.
– Make sure you're not reaching for your keyboard which can put stress on your upper trapezius muscles.
– Tuck your stomach in a little bit (Draw in your navel). This will place your spine in the correct alignment.
Related:
How to sleep with low back pain
Proper Sitting posture tips
Upper back stretches
Exercises to improve posture
Stiff neck remedies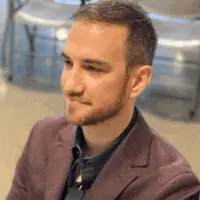 Corrective Exercise Specialist (NASM-CES), Certified Personal Trainer (NASM-CPT), Professional Dancer
As a long time back sufferer Leon found unique methods to alleviate his pain using natural methods including self massage, exercise/stretching and postural habits. He founded Backintelligence.com to empower others to fix their postures and ease their back pain from home.