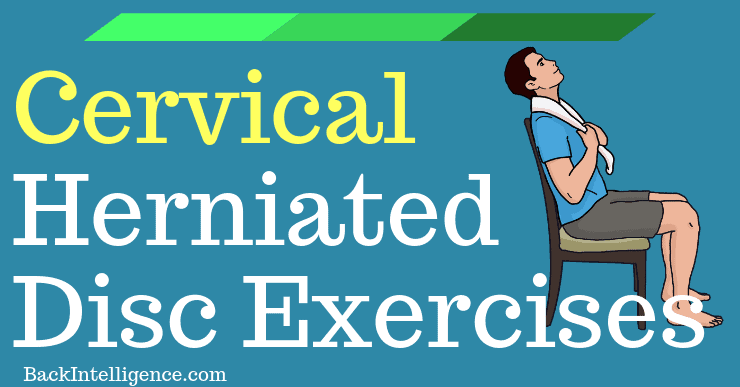 A herniated cervical disc occurs when one of the Neck's disc material pinches on the spinal nerves (in the neck area) and causes pain. In this article we'll discuss this condition and give you specific exercises that you can do at home to alleviate your pain.
So, What Is a Cervical Herniated Disc?
A Herniated cervical disc is when the inner material (aka nucleus pulposus) from one of the discs in the neck protrudes or makes it way out of the disc's outer protective layer (aka annulus fibrosus) and pinches on the nerves in the neck – This causes painful symptoms.
The following image is a very simplified illustration of this: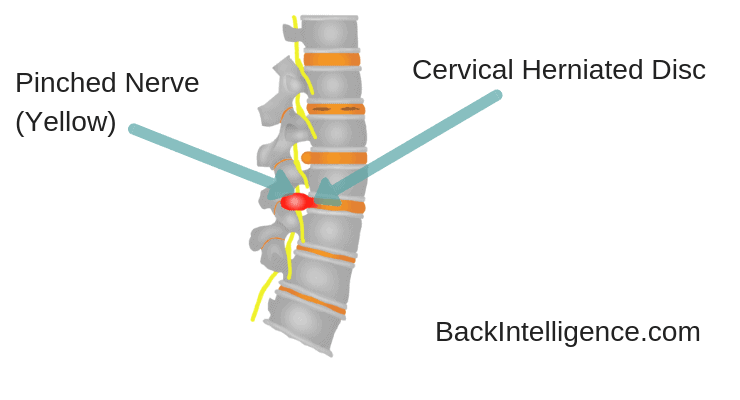 Symptoms of Cervical herniated disc (How do you know you have it)
Pinched nerve in the neck (aka Cervical radiculopathy)
Neck pain or stiffness. This will typically result in an inability for the patient to move his or her neck in one motion or the other such as turning the head, side bending, or extension/flexion.
Radiating pain down the arm/s, hand, shoulder, shoulder blade, chest.
Sensory changes including burning, tingling, numbness, pins or needles.
Muscle Weakness or Paralysis – If the protruding disc progresses and applies enough pressure, it can lead to severe weakening of muscles or inability to use the muscles properly. This is an indication of a more serious problem and should be evaluated by a doctor ASAP.
Common Causes of Cervical herniated disc Include:
Poor Posture/Posture Dysfunctions – Usually this means Kyphotic posture which is defined by rounded shoulders and a forward head position – aka text neck.
Trauma – This can occur when a person sustains a high impact force to the spine. Activities typically include: contact sports, work injuries, and repetitive trauma. This high impact for can cause a "rip" or "tear" in the outer fibers of the disc that can cause a sudden herniation.
Treatment of a herniated disc (Besides Surgery) Include:
Our mission here at Back Intelligence is to provide you with natural treatment options, besides surgery (which should be the last resort).
Manual therapy Spinal manipulation, mobilization, and massage.
Exercise therapy exercise therapy is generally the first line approach and generally provides good results with minimal investment (See exercises below).
Traction – This can decompress the spine and can provide relief.
Ice Therapy/Heat Therapy. Usually in the beginning ice therapy is recommended to reduce inflammation.
In this article we'll focus on some of the exercises and stretches you can do at home.
Please be careful, if any of these exercises cause more pain, stop, and try a different exercise/approach. Pain into your arm is more worrisome and if you see any increase in this, stop, and do not perform that exercise.
The goal with all of these exercises is to cause "centralization" of the symptoms. This means that when you do any of these exercises – you want your symptoms to come back/feel closer to the spine (center), rather in than in your shoulder/arm/hand. This will signal that it may be working for you.
5 Cervical Herniated Disc Exercises
1. Chin Tucks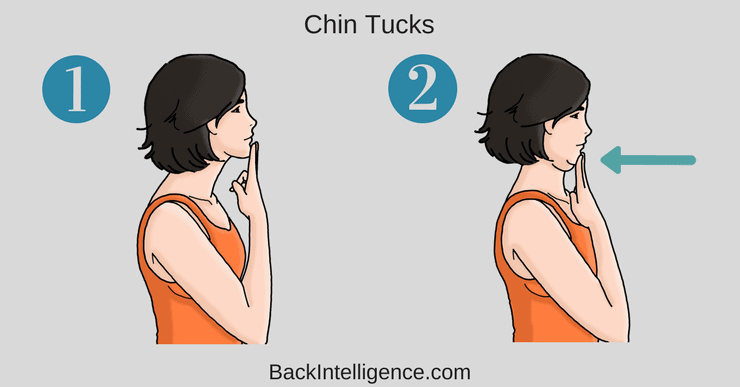 This exercise will help to improve the strength of the deep neck flexors (front of the neck muscles), helping to reduce forward head and rounded shoulders posture (Upper Crossed Syndrome).
How to do it:
– Sit or stand with a good posture.
– Retract the neck back and retract the chin at the same time.
– Hold the chin tuck for 2-3 seconds.
– Release the neck forward.
– Repeat 10 times.
2. Neck Extensions (Supported with towel)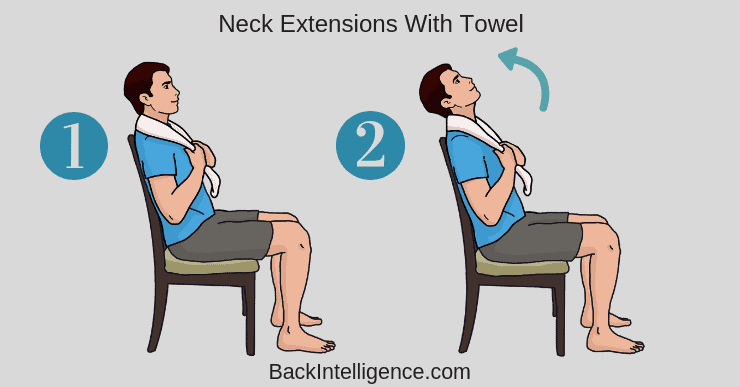 This stretch can release some of the pain symptoms and push the disc material back into place. If this stretch causes more pain, move on to the next one.
How to do it:
– Sit at the back of a chair with an upright posture while holding a towel wrapped around your neck
– Now stretch your spine up and over the back of your chair.
– Keep tension in the towel, to support your neck.
– Do 5-10 Extensions
3. One Arm Pec Stretch – At A Wall (Do Both Sides)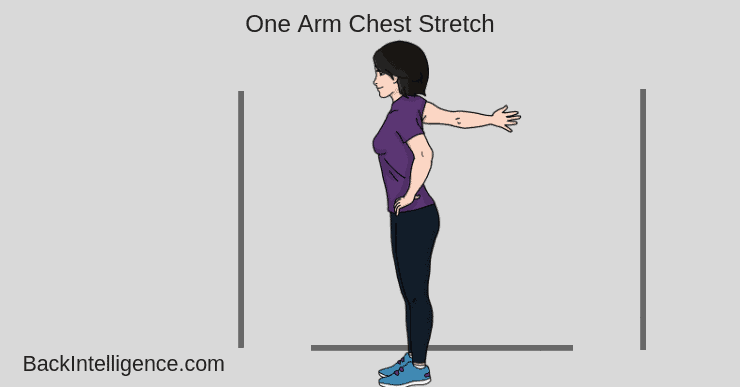 This will stretch out the chest area which can be tight and pull the neck into a bad posture. Releasing the pecs will allow you to be in a better posture and can alleviate some of the pain.
How to do it:
– Come close to a wall and stretch one arm behind you with the palm on the wall.
– Now lean forward and slightly away from the extended arm.
– Feel the stretch in your chest area.
– Hold for 30 seconds.
– Repeat on the other side
* Make sure you're not just stretching you shoulder, but also the chest. Tweak the angle of your position to get the chest muscles.
* If you feel any pain, stop this exercise and try another one.
4. Upper Trapezius Stretch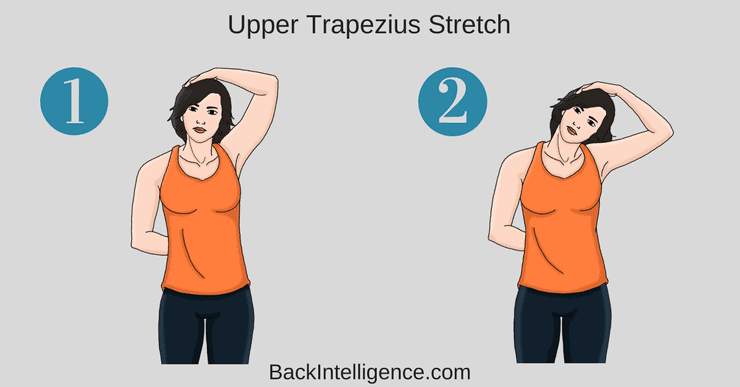 This stretch can help alleviate some of the symptoms, as well as, add some mobility to your neck.
How to do it:
– Start either in a standing or seated position.
– Place one of your hands on the opposite side of your head.
– Now bring the head down towards your ear.
– Use the hand overhead to press your neck down – to get a deeper stretch (Not too hard).
– Hold for 30 seconds and do 2-3 sets.
#5. Scapular Retraction (Using Resistance Bands)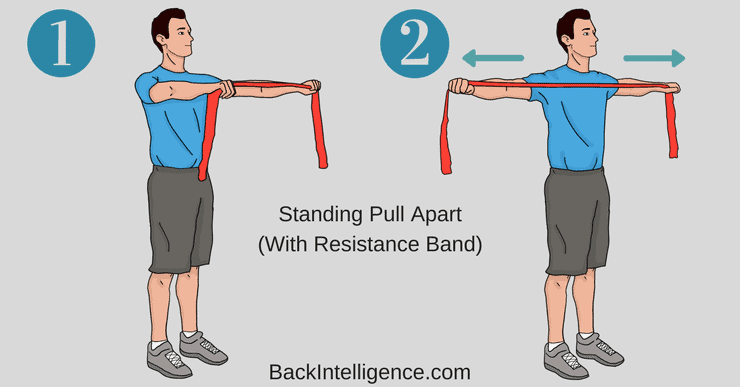 This exercise is meant to stabilize and strengthen the muscles in the mid-back which will allow your posture to improve.
How to Do It:
Begin standing with a good posture
Holding a resistance band (level of resistance you use depends on your individual strength level) with both hands, straighten your elbows and bring your arms out in front of you.
While keeping your elbows locked, slowly move your arms out and back behind your body. You should feel the muscles between your shoulder blades contracting/squeezing.
Only go out as far as comfortable. Some muscular discomfort (burning) is ok, but pain in the arms or neck is not.
Avoid shrugging your shoulders toward your ears.
Repeat 2×10, gradually increasing to 3×10.
By the time you get to repetition number 8, 9, 10, this should be challenging. If it is not, increase the level of resistance on the band.
What about Over-the-Door Cervical Traction?
Dr. Oliver's Thoughts on Over-the-Door Cervical Traction: It places a lot of stress on the jaw which can create a TMJ disorder. You may get temporary relief from it but no real long term gains worth injuring the TMJ. So I don't recommend it.
Lastly, Fix Your Ergonomics
If you don't fix your upper back posture and daily habits, you condition may not improve, and could even get worse. Check out this article to learn the 10 steps to a proper sitting posture.
Recommended Program:
The Complete Posture Fix (With Dr. Oliver, DC)
Correct your Posture and Ergonomics, Ease Back & Neck pain and Increase your mobility.
Learn More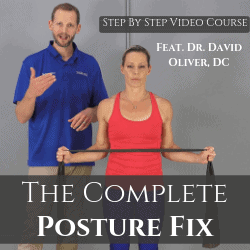 Sources:
– https://www.ncbi.nlm.nih.gov/pmc/articles/PMC5574331/
– https://academic.oup.com/ptj/article/89/7/632/2747284
– Herniated disc. American Association of Neurological Surgeons. http://www.aans.org/patient%20information/conditions%20and%20treatments/herniated%20disc.aspx. Accessed July 19, 2016.
– Tsao, S., & Pidcoe, P. (2008). The management of a patient with a cervical disc herniation: a case report. Clinical medicine. Case reports, 1, 45-9. https://www.ncbi.nlm.nih.gov/pmc/articles/PMC3785210/ OR
– Iyer, S., & Kim, H. J. (2016). Cervical radiculopathy. Current reviews in musculoskeletal medicine, 9(3), 272-80. https://www.ncbi.nlm.nih.gov/pmc/articles/PMC4958381/ OR https://link.springer.com/article/10.1007/s12178-016-9349-4
– Manchikanti, Laxmaiah & A Hirsch, Joshua. (2015). Clinical management of radicular pain. Expert review of neurotherapeutics. 15. 1-13. 10.1586/14737175.2015.1048226. https://www.tandfonline.com/doi/abs/10.1586/14737175.2015.1048226
– Joshua A. Cleland, Julie M. Whitman, Julie M. Fritz, Jessica A. Palmer J. Manual physical therapy, cervical traction, and strengthening exercises in patients with cervical radiculopathy: a case series. Orthop Sports Phys Ther. 2005 Dec; 35(12): 802–811. https://www.jospt.org/doi/abs/10.2519/jospt.2005.35.12.802
– Lees, F., & Turner, J.W. (1963). Natural History and Prognosis of Cervical Spondylosis. British Medical Journal, 2(5374), 1607-10. https://www.ncbi.nlm.nih.gov/pmc/articles/PMC1873933/pdf/brmedj02530-0019.pdf
– Brinjikji, W, Luetmer, P.H., Comstock, B., Bresnahan, B.W., Chen, L.E., Deyo, R.A., Halabi, S., Turner, J.A., Avins, A.L., James, K., Wald, J.T., Kallmes, D.F. and Jarvik, J.G. (2015) Systematic Literature Review of Imaging Features of Spinal Degeneration in Asymptomatic Populations. American Journal of Neuroradiology. 36 (4) pp 811­816
– Mumenthaler, M, and Mattle, H. (2004) Neurology. 4th Edition. Stuttgart: Thieme.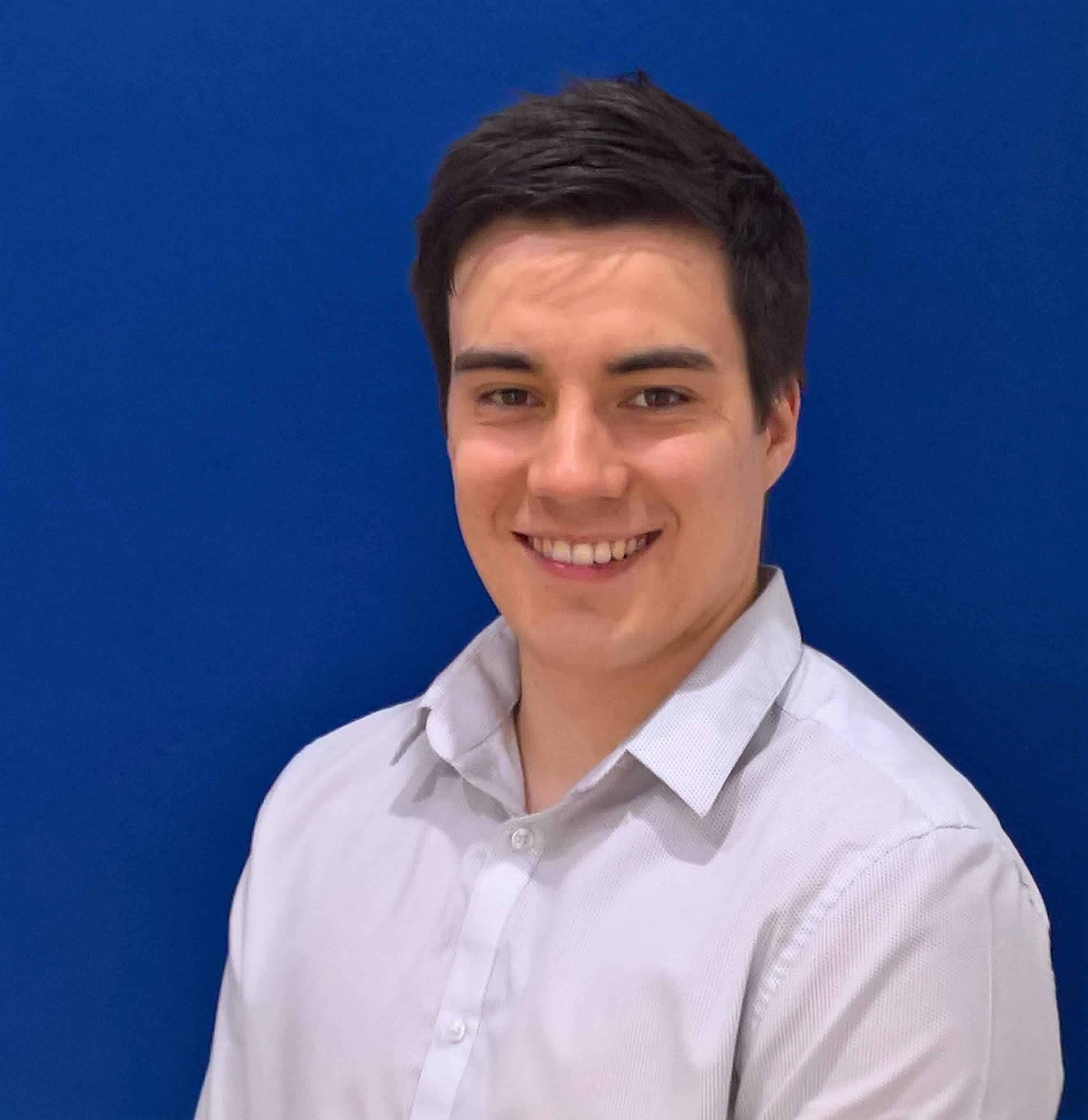 Michael is UK registered chiropractor who holds a masters in chiropractic. He has worked with with patients, athletes and celebrities. He is passionate about strength and conditioning, rehabilitation, corrective exercises, injury prevention and all things movement based.
Co Authors :