Research has confirmed that 8 out of 10 people will experience low back pain at some point throughout their lives[7].
Poor posture, unbalanced tight and weak muscles, overtraining, and joint dysfunction are all possible causes of low back pain, but one of the most common, as well as one that can even present with and/or cause some of the symptoms noted above is a bulging disc. [Read more…] about Bulging Disc Treatment In Lower Back – 5 DYI Exercises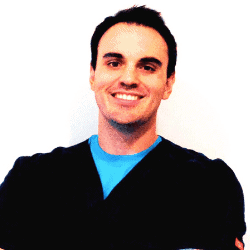 Dr. Smith earned his Doctorate In Physical Therapy from the University of Miami's Miller School of Medicine and currently practices as a home care therapist in the Tampa Bay area. He uses his eclectic background of working with everyone from those in the ICU to elite athletes to customize care for each one of his patients and progress them toward their personal goals.
Prior to being a Physical Therapist, he earned a masters degree in public health and managed big pharma clinical trials worldwide. He enjoys CrossFit, Animals, and helping people live a pain free and active lifestyle
Co Authors :