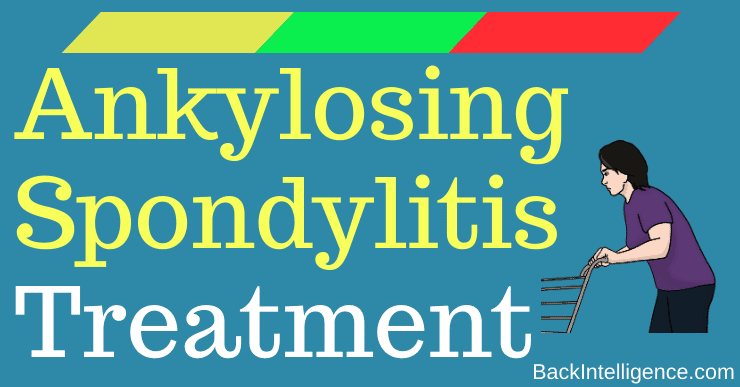 Ankylosing spondylitis (AS) is a chronic auto-immune disease and it may occur in 0.01% to 1.8% of the population.
AS is an inflammatory arthritis that is part of a group of conditions called spondyloarthritis.[1][2]
Primary sites of pain and inflammation in Ankylosing spondylitis are the Sacroiliac Joints (SI) and the Spine itself. Also, peripheral joints can be affected, as well as organs such as the eyes, heart, and lungs.[2]
What Causes Ankylosing spondylitis?
Diagnosis of Ankylosing spondylitis
Diagnosis of AS is difficult as back pain is a symptom of numerous conditions, however, diagnosis is based on a variety of factors including:[5]
o Detailed medical history, including a personal and family history.
o Thorough physical exam.
Findings may include:[2]
Possible spinal deformity (loss of lumbar lordosis, and kyphosis).
Sacroiliac joints may be tender to palpation.
Decreased range of motion of the lumbar and cervical spine.
Reduced expansion of the chest.
The Schober's test is used to measure lumbar flexion; <5 cm of flexion is considered an abnormal result.
Tender and swollen peripheral joints.
Tender enthesial points, including where the Achilles tendon inserts.
Blood work that includes a test for HLA-B27.
Imaging studies including x-ray or MRI to look for SI involvement may be recommended.
However definitive diagnosis may be difficult as radiographic changes indicative of sacroilitis generally occur later in the disease process, and may take up to 10 years to appear on radiographs. In some cases, patients may not develop radiographic changes.[2]
Why AS causes pain?
The SI joint gets affected – Sacroilitis (inflammation of one or both of the sacroiliac joints) and spondylitis (inflammation of the vertebrae) cause inflammatory back pain in patients with AS.[4]
In advanced cases, inflammation can lead to fibrosis and calcification, resulting in the loss of flexibility and the fusion of the spine, referred to a "bamboo" spine. This also causes stiffness and pain.[8]
Symptoms of Ankylosing Spondylitis
Early Symptoms:
As the disease progresses, symptoms include:
In many cases, patients experience acute, painful flare-ups of their symptoms, followed by temporary remission of symptoms.[5]
Additionally, some patients may present with extra-articular features and/or complications including:
Treatment Options for Ankylosing Spondylitis
Management of AS includes a multidisciplinary team including medical doctors, rheumatologists, rheumatology nurses, nurse practitioners, and physiotherapists.[6]
Goals of treatment include:
Treatment Management includes:
Exercise Methodology for Ankylosing Spondylitis
Note: If any of the following exercises cause you pain, stop and try a different exercise/approach.
5 Exercises for Ankylosing Spondylitis
Exercise #1: Cat & Cow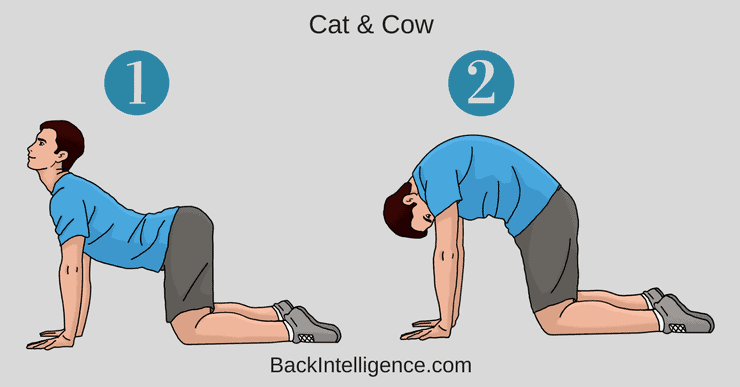 This stretch is great to get some mobility in your spine. You don't need to push to the end-range to get benefits from this exercise. Go slowly and do about 10-15 reps.
Exercise #2: Door Frame Stretch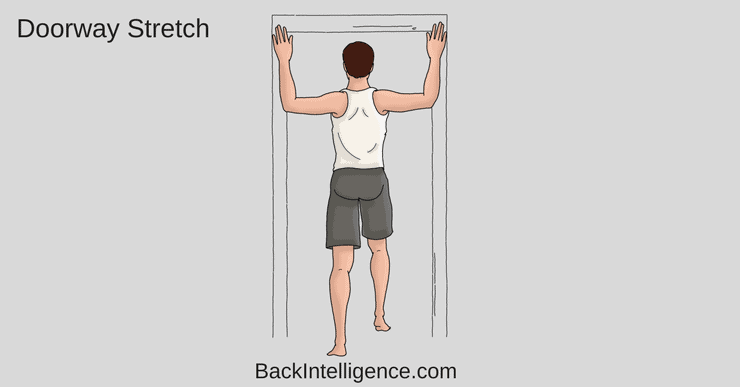 As most people with AS have a hunchback type of posture, the door frame stretch is great for stretching out the upper back and chest area. You don't need to push into it, but do it gently. Do 10 reps, 30 second holds.
Exercise #3: Child's Pose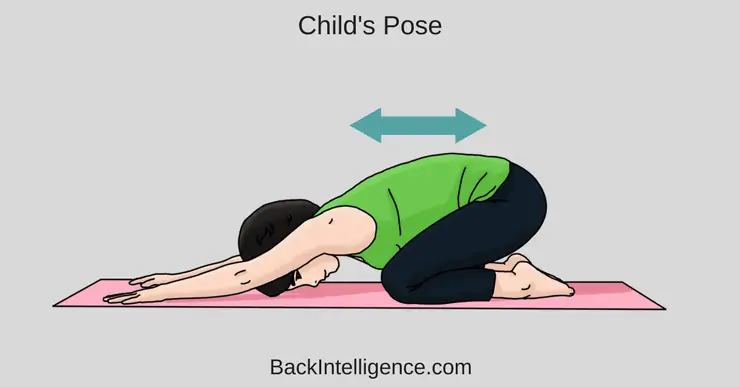 This is another great stretch to stretch out and mobilize your spine and shoulders. Try to relax and breathe as you're doing it. Do 1-3 reps and hold for about 10-20 seconds.
Exercise #4: Y & T Mobility Stretch

This is a good mobility exercise to feel your shoulders and spine expand. Extend your arms to the letter "Y", then bring them back to the letter "W". Do it 10-20 reps throughout the day.
Exercise #5: Bird Dog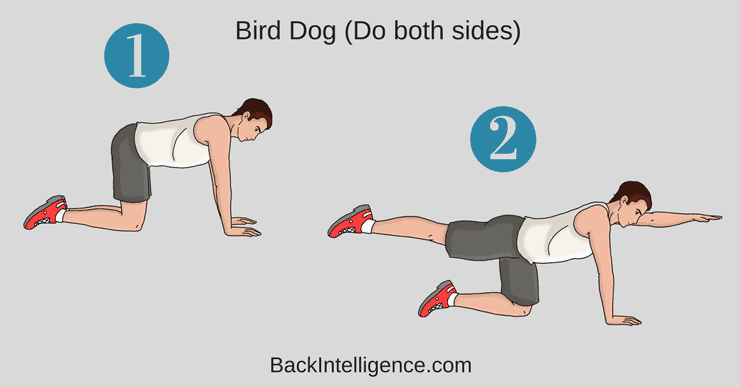 This is a great exercise to improve core strength and lumbar back muscles.
How to do it:

– Begin on your hands and knees, with your hands positioned under your shoulders and knees positioned under your hips.
– Brace (contract) your core as hard as you can before beginning any movement.
– While bracing your core, raise your left arm and reach it forwards until it is aligned with your torso; at the same time, kick your right leg backwards until is it aligned with your torso.
– It's important to not arch your low back as you do this.
– Hold this position for 2-3 seconds before slowly returning to the starting position.
– Repeat with your right arm and left leg.
– Alternate sides for 10 repetitions.
** Only extend your arm and leg to where it's comfortable and don't arch your low back.
Related:
Sacroiliac Joint Exercises
Scoliosis Treatment
Low back pain from sitting
Herniated disc exercises to avoid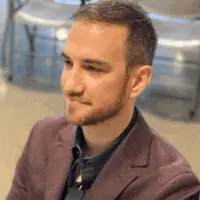 Corrective Exercise Specialist (NASM-CES), Certified Personal Trainer (NASM-CPT), Professional Dancer
As a long time back sufferer Leon found unique methods to alleviate his pain using natural methods including self massage, exercise/stretching and postural habits. He founded Backintelligence.com to empower others to fix their postures and ease their back pain from home.
Co Authors :